Creature Components Volume 1
Playground Adventures
---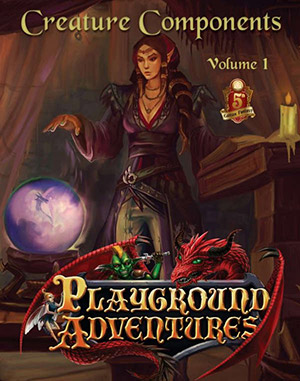 Creature Components Volume 1
For generations wizards have sought ways to augment their already substantial magical abilities. Centuries of research has yielded countless new spells, metamagic practices, and even the discovery of cooperative spellcasting as a means for making existing spells more powerful. Now you can add even more power to your arsenal with Creature Components!
Harvest the essence of elementals, the scales of dragons, and the blood of genies for use in augmenting your own spells or take it a step further with mods to magic items, weapons, and armor.
Creature Components is a rule supplement surrounding the harvesting of specialized components, and their use in the augmentation of both arcane and divine magic.
This book includes:
Rules for identifying and harvesting creature components
Over 100 creatures in the component catalogue
Variant Magical Items
New Magical Weapons and more
Within these pages are options for both players and DMs to add variety to treasure hoards, day to day spell casting, and even item creation. Magic has evolved...
Requires: An active subscription or a one time purchase of a Fantasy Grounds Full or Ultimate license and the included 5E Ruleset.
Owned by Playground Adventures ©2017, used with permission, all rights reserved.
Fantasy Grounds is a trademark of SmiteWorks USA LLC. © 2017 SmiteWorks USA LLC. ALL RIGHTS RESERVED.
Released on October 18, 2017
Designed for Fantasy Grounds version 3.2.2 and higher.
Screenshots
PAPGCC15E