PFRPG - The Sinking Complete Serial
0one Games
---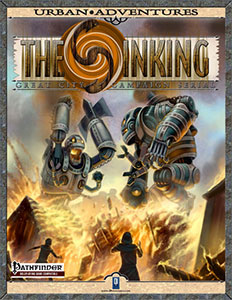 Welcome to the Sinking, a campaign serial designed for use with the Pathfinder Roleplaying Game.
This book contains twenty adventures set in the Great City. The adventures are tied to one single catastrophic event, a giant sinkhole opening in the very hearth of the Great City. While the first season adventures are loosely tied to the plot, the second season goes deeply into the mystery going straight toward the amazing finale!
This is a campaign for a group of players starting at 1st level and going up to the 11th level.
The Sinking Complete featuring the talents of:
Tim Hitchcock
Rob Manning
Stefan Happ
Tom Ganz
John E. Ling, Jr.
Mario Barbati
David Schwartz
Tito Leati
Michael O'Day
Thurston Hillman
Savannah Broadway
Fantasy Grounds Conversion: Cari Most
Requirements: A Full or Ultimate license of Fantasy Grounds and the 3.5E/Pathfinder (or compatible) ruleset.
© 2016 0one Games. Basic Paths and all related marks and logos are trademarks of 0One Games. All rights reserved. Used with permission. © 2016. All Rights Reserved.
This is a Pathfinder Roleplaying Game compatible product and can be used with Dungeons and Dragons 3.5 or the Pathfinder roleplaying game.
This product is Copyright 2016, SmiteWorks USA, LLC. Used under license from 0One Games. This product's format, programming code, and presentation is copyrighted by SmiteWorks USA, LLC. Redistribution by print or by file is strictly prohibited.
Released on May 10, 2016
Designed for Fantasy Grounds version 3.1.7 and higher.
Screenshots
OOGFGPFTSC