Black Magic (5E)
0one Games
---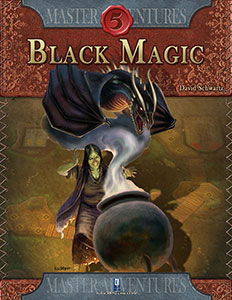 Black magic
Once thought by many to be just a myth, a bogeyman to keep the young and rash from wandering the woods, the Swamp Witch has become all too real, abducting young people from their very homes. Witnesses say she travels to and from her hut in the Dread Swamp atop a living shadow. Now the PCs must make their way through the wilderness to confront the Swamp Witch. Is she the harmless hermit she claims to be, or is she practicing Black Magic?
In Black Magic the PCs make their way through a swamp to reach the lair of an evil hag. In the Eerie Forest, the witch hut is located in the midst of the Dread Swamp, the largest body of water in the forest. GMs are encouraged to place the witch hut in a swampy area appropriate for their campaign. This adventure is designed for four 6th-level characters in the Fifth Edition of the world's oldest roleplaying game.
Written by David Schwartz, Illustrated by Eric Lofgren, Mapped by Mario Barbati
Fantasy Grounds Conversion: Colin Richardson
Requirements: An active subscription or a one time purchase of a Fantasy Grounds Full or Ultimate license and the included 5E ruleset.
© 2016 0one Games. Basic Paths and all related marks and logos are trademarks of 0One Games. All rights reserved. Used with permission. © 2016. All Rights Reserved.
This product is Copyright 2016, SmiteWorks USA, LLC. Used under license from 0One Games. This product's format, programming code, and presentation is copyrighted by SmiteWorks USA, LLC. Redistribution by print or by file is strictly prohibited.
Released on January 13, 2017
Designed for Fantasy Grounds version 3.2.1 and higher.
Screenshots
OOGFGPFBMMA5E03