The Road to Revolution: The Campaign (PFRPG)
0one Games
---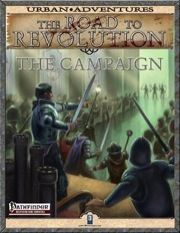 The Road to Revolution: The Campaign (PFRPG)
One of the most critically acclaimed campaign out there now completely converted to Pathfinder!
The Road to Revolution is a complete conversion of the 320 pages campaign designed for use with the Pathfinder Roleplaying Game.
Set in the Great City, this epic campaign takes characters from their humble beginnings, all the way to powerful adventurers upon whose actions the City will come to depend. The Campaign Arc contains six adventures in all, each written by the original authors of the Great City Campaign Setting. Arc adventures can be played individually or linked with others in the series to create a complete campaign.
This module contains:
The Skullcrackers by John Ling - Levels 1-3
The Bloody Fix by Lou Agresta and Rone Barton - Levels 3-6
Tides of Blood by Adam Daigle, Tim Hitchcock, Greg Oppedisano - Levels 6-9
Puncture the Blackened Vein by Lou Agresta and Rone Barton - Levels 9-11
The Usurpers by Tim Hitchcock - Levels 11-13
The Sundered Legion by Liz Courts and Brendan Victorson - Levels 13-16:
Fantasy Grounds Conversion:
Cari Most
Requirements: A current and active license of Fantasy Grounds and the included PFRPG ruleset.
© 2015 0one Games. Basic Paths and all related marks and logos are trademarks of 0One Games. All rights reserved. Used with permission. © 2015. All Rights Reserved.
This is a Pathfinder Roleplaying Game compatible product and can be used with the Pathfinder roleplaying game. Ownership or knowledge of the Pathfinder RPG Core Rulebook is highly recommended.
This product is Copyright 2015, SmiteWorks USA, LLC. Used under license from 0One Games. This product's format, programming code, and presentation is copyrighted by SmiteWorks USA, LLC. Redistribution by print or by file is strictly prohibited.
Released on April 03, 2015
Designed for Fantasy Grounds version 3.0.12 and higher.
Screenshots
OGUA037FG