ōone's Colorprints #8: Gnoll Enclave
0one Games
---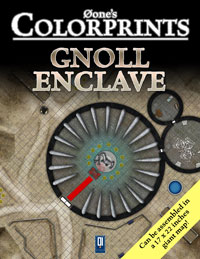 ōone's Colorprints #8: Gnoll Enclave
Map Module for Fantasy Grounds II
In the far reaches of the sandy desert, between hostile canyons and endless dunes you can find the Gnoll Enclave. This settlement has been built over several flat-topped desert mountains linked each other by bridges made of stone and bones. Led by a tyrannical packmaster the desert gnolls are fierce foes, backed up by a cabal of shamans and spirit callers.
This Colorprint contains the following maps:
Dwellings
On this plateau you can find the most basic gnoll settlement: dozen of gigantic huts made of hides and bones, mostly used for sleeping and to take shelter during the night or during the frequent sandstorms. A single well provides enough fresh water for the gnolls living there. Standard features of every gnoll settlement are the hyena fences, scattered among the huts. Several dump pits have been excavated there and there.
The cabal of shamans erected a couple of totems and designated two spots as sacred ground for spirit calling.
Temple of the Hyena God
A gigantic dome flanked by two smaller ones rises on this plateau. A single, giant statue of a mighty demonic gnoll overlooks a blood-spattered sacrificial altar. Bones of gigantic sand monsters form the ceiling of this impressive structure. A smaller dome is dedicated to minor gnoll deities. A single high priest surveys this structure at all times
Slave Pen
This is where the gnolls keep their slaves. Mostly they maraud the desert caravans and then use the slaves for sacrifices or sell them to unscrupulous human bandits. The slave pen is built around a massive dragon skeleton dead from ages. The gnolls mount constant guard over the slave pen, looking through peeping holes made in the four corner huts. Hyenas also help the gnoll guards to survey the complex.
Packmasterís Palace
This massive structure is almost big as the temple. It houses the mighty gnoll packmaster along with his bodyguards and concubines. The packmaster hides a great treasure looted in many years of activity over the desert. The packmasterís bedroom is full of looted furniture and treasure. A smaller building houses the elite troop as well as a packmasterís personal larder full of fine spirits.
This product is an installable module for use with the Fantasy Ground II virtual tabletop. The map module has been carefully organized to allow the GM the easily prepare adventures within multiple campaigns simultaneously, while still allowing maps modules to be opened or closed as needed. Each map is linked within a an easy to follow outline story entry, with links to the map in mutliple resolutions. This product is usable with any ruleset. A Full license of Fantasy Grounds II is required to use this product.
Fantasy Grounds II Conversion by 0one Games
Ruleset Compatibility: Any
© 2010 0one Games. 0one Colorprints and all related marks and logos are trademarks of 0one Games. Used with permission. © 2010. All Rights Reserved. This products' format, programming code, and presentation is copyrighted by 0one Games. Redistribution by print or by file is strictly prohibited.
Released on February 05, 2010
Designed for Fantasy Grounds version 2.9.9 and higher.
Screenshots
OGCOL08FG2