ōone's Colorprints #7: Dwarven Excavation
0one Games
---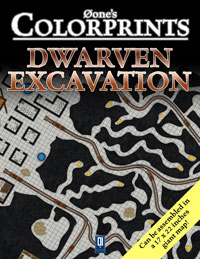 ōone's Colorprints #7: Dwarven Excavation
Map Module for Fantasy Grounds II
The Dwarven Excavation is an underground mining complex. It features tunnels and galleries dug for the sole purpose of extracting precious minerals, such as gold, silver, mithril and copper. But, often, the dwarves dig a tunnel they shouldnít have dug, waking sleeping monsters, invading hostile territories and so on.
This Colorprint contains the following maps:
Mining Camp
The mining camp is the first settlement the dwarves build. A large elevator connects this camp to the surface world (or to the dwarven city). All around the elevator spreads the mining camp made of mining huts lodging the miners. Warehouses keep the materials and tools of the trade and even an inn and a small chapel are found in this settlement. Many railroads for mining carts end their trail here.
Mines
The Mines are a random excavation complex. Railroads go until it is possible, but many smaller galleries spread from the main railroaded tunnels.
The Shaft
This large cavern hosts the largest excavation site of the entire mines complex. It is a large funnel going down for hundreds of feet. The dwarves didnít feel discouraged and built a railroad winding down the shaft. Although it was a masterwork structure, it happens often that mining carts go out of the rails and fall in the shaft.
Military Outpost
Sometimes dwarves meet hostile underground dwellers that donít allow further excavations. In such cases the dwarves set up a military outpost for the sole purpose of defending the territory. The military outpost is a self-sustaining structure with barracks, kitchen, forge and a well providing fresh water.
This product is an installable module for use with the Fantasy Ground II virtual tabletop. The map module has been carefully organized to allow the GM the easily prepare adventures within multiple campaigns simultaneously, while still allowing maps modules to be opened or closed as needed. Each map is linked within a an easy to follow outline story entry, with links to the map in mutliple resolutions. This product is usable with any ruleset. A Full license of Fantasy Grounds II is required to use this product.
Fantasy Grounds II Conversion by 0one Games
Ruleset Compatibility: Any
© 2010 0one Games. 0one Colorprints and all related marks and logos are trademarks of 0one Games. Used with permission. © 2010. All Rights Reserved. This products' format, programming code, and presentation is copyrighted by 0one Games. Redistribution by print or by file is strictly prohibited.
Released on February 05, 2010
Designed for Fantasy Grounds version 2.9.9 and higher.
Screenshots
OGCOL07FG2