ุone's Colorprints #5: Sewers Below
0one Games
---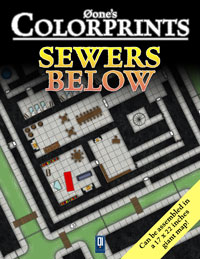 ุone's Colorprints #5: Sewers Below
Map Module for Fantasy Grounds II
Which sort of dangers hide in the sewers? Where is exactly located that damned thieves hideout? Where is the temple devoted to that filthy deity? Where is that underground smugglers dock? And, finally, how can we do to avoid becoming hopelessly lost in that damned sewers maze? Find it in Sewers Below!
The Maze
Many underground waterworks cross and connect themselves in this filthy maze. Some secret doors lead to mysterious chambers containing goods or leading to other places below the city.
The Hideout
Nobody is able to find this hideout whose secret entrance is hidden somewhere in the sewers maze below the city. A corridor encircles the whole hideout and lead to the actual entrance of the complex. Inside, a self-sufficient environment do exist, containing refectory, barracks, storage rooms, a fresh water well, and many other facilities.
The Temple
Someone whispers the sewers temple is devoted to a ratlike deity, others tell tales about unaware citizens drawn in the sewers and forever lost, maybe victim of horrid sacrifices. The temple features a main entrance and secret side entrances. Inside many other shrines are found, along with cells, high priests room, kitchen, larder and guardposts.
The Dock
This sewers dock is well protected by two sturdy portcullises. A nest of rooms, accessible via secret doors, surrounds the dock entrance. The rooms are provided of arrowslits to defend the entrance. Only small rowboats can access the dock, this due to the small size of the sewers channels, although it is told that smugglers can shrink the size of larger boats in order to unload precious cargoes of illegal goods in the storage rooms of the dock.
This product is an installable module for use with the Fantasy Ground II virtual tabletop. The map module has been carefully organized to allow the GM the easily prepare adventures within multiple campaigns simultaneously, while still allowing maps modules to be opened or closed as needed. Each map is linked within a an easy to follow outline story entry, with links to the map in mutliple resolutions. This product is usable with any ruleset. A Full license of Fantasy Grounds II is required to use this product.
Fantasy Grounds II Conversion by 0one Games
Ruleset Compatibility: Any
ฉ 2010 0one Games. 0one Colorprints and all related marks and logos are trademarks of 0one Games. Used with permission. ฉ 2010. All Rights Reserved. This products' format, programming code, and presentation is copyrighted by 0one Games. Redistribution by print or by file is strictly prohibited.
Released on February 05, 2010
Designed for Fantasy Grounds version 2.9.9 and higher.
Screenshots
OGCOL05FG2