ōone's Colorprints #2: Riverside Inn
0one Games
---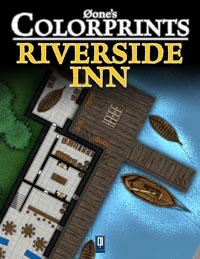 ōone's Colorprints #2: Riverside Inn
Map Module for Fantasy Grounds II
The Riverside Inn lies, almost hidden, in a crouching bend of the Great River. Itís a three-story building made of river stones and sturdy oak wood. During the day casual passengers on riverboats can even not notice it, but, during the night, the innís lights are clearly visible from the river as well as from the land. Strategically placed halfway between two important cities, the Riverside Inn is the must-stop of all the cargo ships sailing on the Great River. Many captains choose to make a stop at the inn to drink its famous stout beer and taste its delicious sandwiches stuffed with salted butter and salmon, even if many of these captains and crews know about the hidden activity of the inn: a gambling house. Hidden behind secret doors located in the huge innís cellar lie two gambling rooms where many of the common hazards games are played all night long...
This product is an installable module for use with the Fantasy Ground II virtual tabletop. The map module has been carefully organized to allow the GM the easily prepare adventures within multiple campaigns simultaneously, while still allowing maps modules to be opened or closed as needed. Each map is linked within a an easy to follow outline story entry, with links to the map in mutliple resolutions. This product is usable with any ruleset. A Full license of Fantasy Grounds II is required to use this product.
Fantasy Grounds II Conversion by 0one Games
Ruleset Compatibility: Any
© 2010 0one Games. 0one Colorprints and all related marks and logos are trademarks of 0one Games. Used with permission. © 2010. All Rights Reserved. This products' format, programming code, and presentation is copyrighted by 0one Games. Redistribution by print or by file is strictly prohibited.
Released on February 05, 2010
Designed for Fantasy Grounds version 2.9.9 and higher.
Screenshots
OGCOL02FG2