Masters and Minions
Indie Publishers
---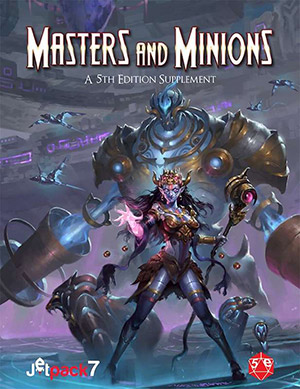 Masters and Minions
One thing we've noticed as game masters ourselves, is the challenge that most GMs face: prep time. With busy lives like ours in mind, we wanted to create a book that has NEW content to help with that! The idea with Masters and Minions was to develop some Bosses and their followers, but with a focus on how they use their minions - and provide some tips and strategies that any GM can "drag and drop" into a new or existing game. This new content will span levels 1 - 20, so the book will continue to provide you with new content as your players level up!
Masters and Minions Features:
16 bosses and their minions
6 new monsters
tips and strategies
developed antagonists
motivations, goals and strategies for masters
plot ideas and roleplaying hooks
new lore
"plug and play" options for new or existing campaigns
the benefit of time-saving while prepping for a game
**All new** content not previously published or compiled from other products.
Detailed NPCs, with the primary focus being how the masters implement and use their minions.
Minions will be unique (new monsters). Alternate minion types will also be suggested.
Lore and description on each Master and how they use their minions.
Each Master has story hooks, tricks, and strategy on how to use each one effectively. This can potentially save hours of prep time for a GM.
Creative Team:
Dan Dillon , writer:Tome of Beasts/Kobold Press, Adventurer's League, Rogue Genius Games, Legendary Games, Rite Publishing.
Jim Pinto, writer: Legend of the Five Rings, Warlord, Protocol Praxis, The Carcass, George's Children, World's Largest Dungeon
Foreword by Matthew Colville: Writer and designer in video games. Writer of Priest (Ratcatchers #1), Thief (Ratcatchers #2), Critical Role: Vox Machina and runs a YouTube channel with 130K subscribers
Conceptopolis, LLC, artwork: Hasbro, Mattel, Marvel, DC, Wizards of the Coast, Lego, Sony, Square Enix, among others.
What you can expect:
Encounters covering levels 1-20.
Encounters are broken into levels 1-3, 4-7, 8-10, etc., allowing for flexible game options.
Converted by:  Michael Potter
Requires:An active subscription or a one time purchase of a Fantasy Grounds Full or Ultimate license and the included 5E Compatible ruleset.
Owned by Jetpack7. Copyright (C) 2018. Used with permission. All rights reserved.
Released on April 30, 2019
Designed for Fantasy Grounds version 3.3.7 and higher.
Screenshots
MM106609