Referee's Briefing 4: Mercenary Forces
Mongoose Publishing
---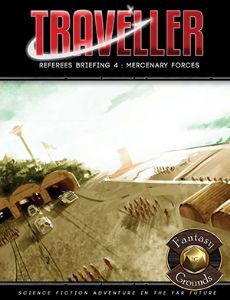 Referee's Briefing 4: Mercenary Forces
Violence can and does solve problems, if properly applied. Of course, the application of violence can result in new or additional problems, but the original issue is solved at least. Mercenaries offer a short-term solution to the question of where to obtain and how to deliver the necessary violence, and can also solve other problems by being officially deniable. Referee's Briefing 4: Mercenary Forces is a guide to local mercenary outfits and how they operate, letting you know who is for hire, who is recruiting... or who will be storming through your own defences.
Adapted for Fantasy Grounds by: Colin Richardson
Requires: An active subscription or a one time purchase of a Fantasy Grounds Full or Ultimate license and a one time purchase of the Traveller 2E (Mongoose) ruleset.
Owned by Mongoose Publishing. (C) 2021, used with permission, all rights reserved.
Released on July 21, 2020
Designed for Fantasy Grounds version 3.3.7 and higher.
Screenshots
MGP40994ETRVMG2E