Reach Adventure 6: Exodus
Mongoose Publishing
---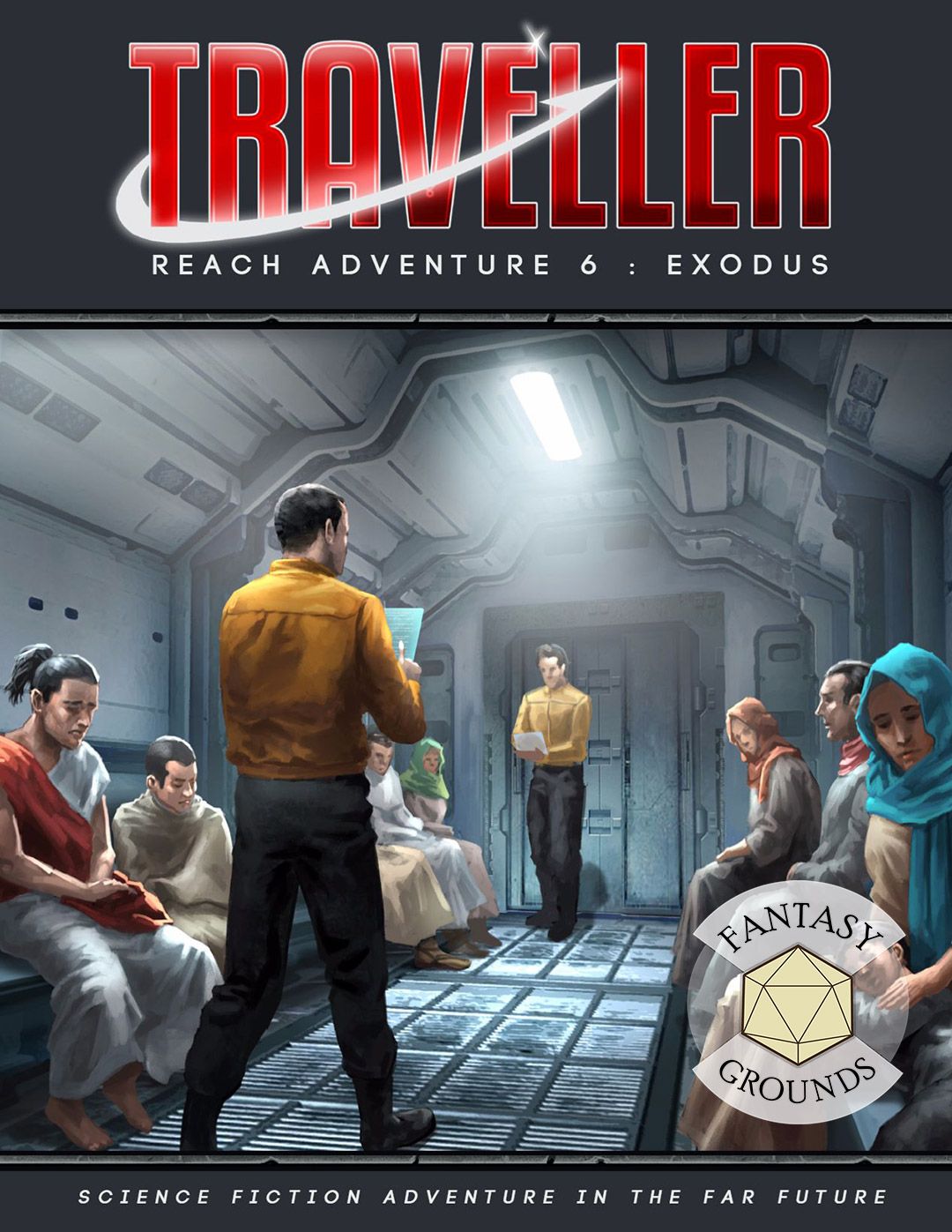 Reach Adventure 6: Exodus
The Travellers are hired to transport hundreds of freed human slaves from a former world of the Glorious Empire to sanctuary. A beneficent Aslan clan lord has lent them a ship for the job. There is just one catch - they must go no farther than six parsecs. To make matters worse, they are being hunted by forces who desperately want to prevent them from reaching their goal. With a vulnerable and poorly armed ship, the Travellers must use their wits to deliver the refugees to safety.
Exodus is set near the borders of the Glorious Empire and the Aslan Hierate where centuries of warfare have devastated the region. The Glorious Empire has left billions of human slaves behind on the worlds they have lost. Eager to obtain the land on these worlds, the Hierate is torn between deporting the humans, converting them into a labour caste, or terminating them in a genocide of epic proportions.
The Travellers' voyage takes on symbolic meaning. Success could trigger a mass exodus of humans from Aslan space. Failure might spell their doom.
Exodus includes the following:
Bad Betty , a modified Khtukhao -class Aslan clan transport
Little Betty , the Bad Betty's sleek shuttle
Ausiyr Aslan assault helicopter
Adapted for Fantasy Grounds by: Harald Budschedl and Colin Richardson
Requires: An active subscription or a one time purchase of a Fantasy Grounds Full or Ultimate license and a one time purchase of the Traveller 2E (Mongoose) ruleset. Compatible with Fantasy Grounds Unity or Fantasy Grounds Classic
Owned by Mongoose Publishing. (C) 2021, used with permission, all rights reserved.
Released on November 03, 2020
Designed for Fantasy Grounds version 3.3.7 and higher.
Screenshots
MGP40022TRVMG2E