Remarkable Shops
LoreSmyth Publishing
---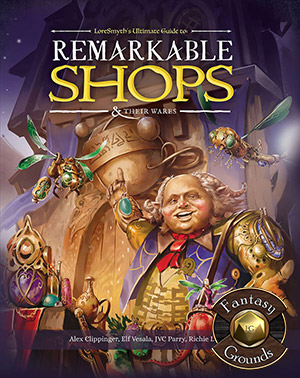 Loresmyth's Ultimate Guide to Remarkable Shops and Their Wares!
Turn ordinary shop visits into memorable roleplaying experiences. Remarkable Shops & Their Wares is the ultimate inspirational sourcebook to create and roleplay fantastical shops. From numerous shop types and wares to unique shopkeepers, currencies, items, exotic mounts, and crafting custom wares.
You can even let your players build and operate a store. With dozens of random generation tables, roleplaying game masters can now construct the most detailed shops ever to grace a fantasy world...
Fully converted for Fantasy Grounds. Includes Maps, tables, the full book in the reference manual and a Random store generator.
Adapted for Fantasy Grounds by: Lee Paxton
Requires: An active subscription or a one time purchase of a Fantasy Grounds Full or Ultimate license and any ruleset.
Owned by LoreSmyth Publishing (C) 2021, used with permission, all rights reserved.
Released on June 16, 2020
Designed for Fantasy Grounds version 3.3.7 and higher.
Screenshots
LSFG5ELOY4000