Ultimate Commander
Legendary Games
---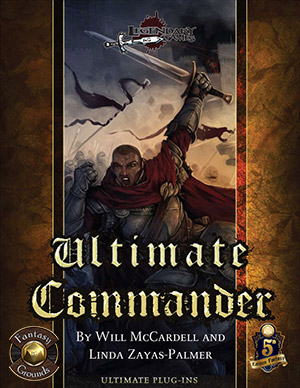 Ultimate Commander
Take Command!
Ultimate Commander bridges the gap between hero-level small-group adventuring in 5th Editionand large-scale battlefield action, bringing you a brand-new character class, the general!These great leaders are capable of wielding a squad of soldiers like a living weapon, trained in complex tactics and with extraordinary acumen on the battlefield. If you've ever wanted to adventure with your own personal army at your back, this is the class for you! At the same time, the rules for this class are fully compatible with the kingdom-building and mass combat rules introduced in Kingdoms, UltimateRulership, UltimateBattle, and UltimateWar from Legendary Games!
Ultimate Commander includes an amazing array of class abilities and specialized stratagems, feats of commandand leadership, and alternate favored class bonuses. It also brings you over a dozen archetypes for the general, from the criminal kingpin to radical revolutionary and the righteous redeemer to the marauding warbringer! It also presents the general's evil opposite, the hordelord, commandinga relentless zombie horde on their path of depravity! Whether your characters lead the armies of heaven or stand in the vanguard of villains, Ultimate Commander opens up a whole new route to victory and conquest! Check out this 5E supplement and Make Your Game Legendary!
Converted by:  Connor Bates
Requires:An active subscription or a one time purchase of a Fantasy Grounds Full or Ultimate license and the included 5E Compatible ruleset.
Copyright (C) 2019 Legendary Games, All rights reserved. Used with permission.
This product is Copyright 2019, SmiteWorks USA, LLC. Used under license from Legendary Games. This product's format, programming code, and presentation is copyrighted by SmiteWorks USA, LLC.
Released on August 27, 2019
Designed for Fantasy Grounds version 3.3.7 and higher.
Screenshots
LGP175UL055E