Mythic Monsters #12: Fairy Tale Creatures
Legendary Games
---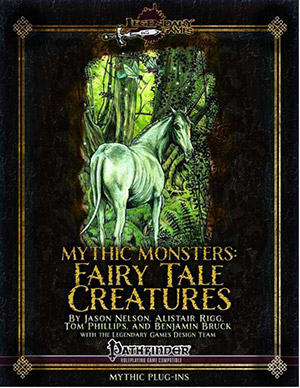 Mythic Monsters #12: Fairy Tale Creatures
The 12th volume in our Mythic Monsters series, Mythic Monsters: Fairy Tale Creatures brings you a dozen and one celebrated storybook creatures, a few friendly, more of them malevolent, and every one dangerous. This product certainly celebrates the fey, but it incorporates a selection of monsters of many types inspired by fairy tales, often with a decidedly Celtic flair. From blarney-filled leprechauns and luminous pixies to terrible banshees keening their anguish and whether bringing succor like a unicorn or murderous spite like a redcap, these creatures bring the full flavor of the realms of faerie to your campaign. We have hungry green hags ready to gobble their victims living or dead alongside flitting faerie dragons that just want to have fun, bogeymen that use terror as a weapon and will-o'-wisps that feed upon it like sweet nectar. We also delved into the madcap tales of Lewis Carroll to bring you not only mythic versions of the frumious bandersnatch, jubjub bird, and jabberwock, but also a brand-new thirteenth monster for this collection, the strange and elusive boojum snark! In addition to these fabulous fairy tale creatures, this product includes a selection of non-mythic and mythic spells, including call woodland beings, faerie form, and fey crossroads, as well as fey-inspired mythic versions of existing spells! The 13 monsters contained herein, ranging in CR from 3 to 28, are updated for the mythic rules, and when we say updated we mean complete stat blocks, yes, but more than that every one has its own unique and exciting new mythic abilities, from a mythic green hag's grisly gobble and insatiable stalker to the death coach and immortal anguish of a mythic banshee!
The Mythic Monsters series from Legendary Games brings you dynamic and exciting mechanics alongside evocative and cinematic new abilities that really help creatures live up to their flavor text, whether they are creatures of real-world myth and legend or creatures born out of the RPG tradition itself. These creatures can work just as well in a non-mythic campaign as they do in one that incorporates the full mythic rules, as you can throw them at your jaded players who think they've seen it all or know the standard monster stats as well as you do. That look of surprise and "What was THAT?" will warm any GM's heart.
This supplement is a terrific complement to the Mythic Monster Manual, with over 220 mythic monsters and an awesome array of monster-focused abilities, feats, and more for your Pathfinder game! Pick up both books today and Make Your Game Legendary!
Requirements: An active subscription or a one time purchase of a Fantasy Grounds Full or Ultimate license and the included Pathfinder ruleset.
Conversion by: Tony Lindberg
This product is Copyright 2017, SmiteWorks USA, LLC. Used under license from Legendary Games. This product's format, programming code, and presentation is copyrighted by SmiteWorks USA, LLC.
Released on October 25, 2017
Designed for Fantasy Grounds version 3.2.2 and higher.
Screenshots
LGP064MY13PF