Compass Point 02 - Cult of the Iron Mask (3.5E)
Indie Publishers
---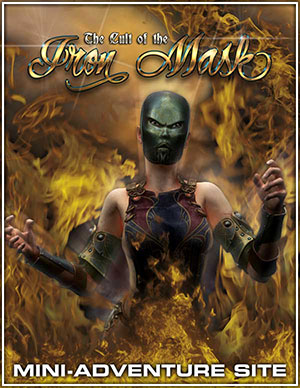 Compass Point #02: Cult of the Iron Mask
A 3.5e mini-adventure site for 4 to 6 Characters Levels 3 to 4
In the darkness of the middle ages the rights of women folk are often left unguarded by chivalry as men give in to lust, jealousy, or the intricacies of arranged marriages made to foster alliances and cement political power.
The Cult of the Iron Mask is the direct reaction of the women folk of a distant land against the tyranny of wicked men. A secret, militant society of women folk. Who seek vengeance against those who break the vows of chivalry, abusing the sanctity and innocence of woman-hood! While also offering safe sanctuary, and a new life to those seeking to flee unjust treatment at the hands of man's lust.
The average follower maintains a secret pact with the cult, watching society as innocent helpless women. Looking on from the windows of peasant hovels, or listening at keyholes from the kitchens of merchant lords. While acolytes of the Iron Mask – normally women folk who have fled terrible husbands or oppressive slave masters – reside in a secret underground monastery. From where, the cult coordinates contacts with women sympathetic to their cause, or under the guise of the dreaded "Women of the Iron Mask," launch raids to free the oppressed and punish the wickedness of men.
Compass Points are small adventures sites for 3.5e which can be dropped into an existing campaign as a side-adventure or as a stand alone adventure! Each Compass Point includes all of the maps, tokens, and story entries that a Game Master needs to employ the mini-adventure module.
Requires: An active subscription or a one time purchase of a Fantasy Grounds full or ultimate license and the included Pathfinder (3.5E compatible) ruleset.
Some artwork copyright © 2017 Jason (Tailz) Cordwell. All Rights Reserved.
Fantasy Grounds is a trademark of SmiteWorks USA LLC. © 2017 SmiteWorks USA LLC. ALL RIGHTS RESERVED.
Released on March 15, 2017
Designed for Fantasy Grounds version 3.2.2 and higher.
Screenshots
IPTSPFGPFCP02COTIM