Taverns & Inns Pack 1 - Living Maps
Indie Publishers
---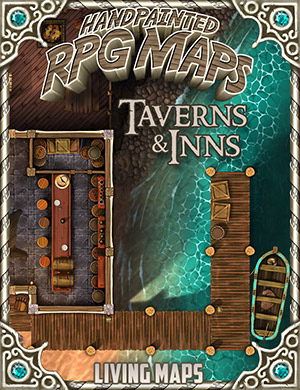 Taverns & Inns Pack 1 - Living Maps
20 Maps across 4 settings with 4 stories
Every map tells a story. These maps are designed, so you don't have to make up that story on the fly. Each setting is full of history, drama, and equally complex NPCs. The maps are "living" with real people and their specific motivations set in a background that is sure to add some strange flavor to your campaigns.
Multiple version of the maps provided:
Fully decorated
Empty building
With the roofs
Night time versions
Snow covered versions
Includes the following living maps:
Map #001 The Sleep Dwarf Inn. (2 maps)The background story involves a young couple. An ambitious wife and alcoholic husband run a small tavern-inn. The husband's father has gone missing. Is there foul play?
Map #046 The Cracked Shell Inn. (6 maps)A seaside tavern located in a quiet bay just on the edge of town. They speak of an island out in the bay. No one will dare go to it because it's haunted.
Map #007 Hunting Lodge Inn. (4 maps)Deep in the old forest, high in the hills, rests a large building for hunters that frequent the area during the season. The widow, Marley Traggon struggles to keep customers coming because the wildlife is mysteriously disappearing.
Map #018 Grind My Gears Pub. (8 maps)The Pub is owned by an insane alchemist that secretly creates potions and distributes them as ordinary food and drink to the customers. The employees know nothing about it but become suspicious when the clientele begin acting strangely.
Converted by:  Vhey Preexa
Requires:An active subscription or a one time purchase of a Fantasy Grounds Full or Ultimate license and any ruleset.
Owned by Vhey Preexa. Copyright (C) 2018. Used with permission. All rights reserved.
Released on August 29, 2018
Designed for Fantasy Grounds version 3.3.6 and higher.
Screenshots
IPFGVPTIP1LM