Odds and Ends, Volume 10
Indie Publishers
---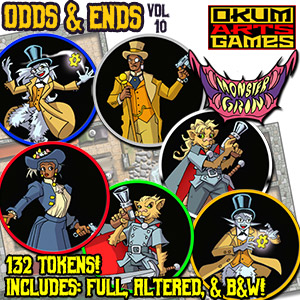 Odds and Ends, Volume 10
With Monster Grin's Odds & Ends token packs, it might sometimes be random, but it's always gonna be awesome! Take these 132 unique, artfully designed and detailed figures from across genre and time for instance! If you're looking to add some variation to your game or to your party, be sure and pick up these tokens, which include some stunning characters and creatures from Okumarts Games that would fit in any fantasy, steampunk, or dieselpunk game: mystical, clockwork fae, steampunk lords and ladies, feisty steamrats and more!
Utilize Monster Grin's Token Halo System to create different types of teams (red, gold, green, black, silver, or blue), or even different levels of the same kind of creature (i.e. boss, high, medium, or low level) to help keep track of what's what and who's who. Also, with Monster Grin's new Altered States tokens, you can get maximum value from each and every token in this pack and really add that special something to your game!
This token pack includes (ringed in black, blue, gold, green, greyscale, and silver, as well as ethereal, invisible, stone-skinned, sand-skinned, and altered state versions):
Female Clockwork Fae
Male Clockwork Fae
Female Human Steampunk Lady
Male Human Steampunk Lord
Female Steamrat
Male Steamrat
Converted by:  James Holloway
Requires:An active subscription or a one time purchase of a Fantasy Grounds Full or Ultimate license and any ruleset.
Owned by Brannon Hollingsworth DBA Monster Grin. Copyright (C) 2018. Used with permission. All rights reserved.
Released on November 08, 2018
Designed for Fantasy Grounds version 3.3.6 and higher.
Screenshots
IPFGMGTP10OE