Frequent Foes, Volume 5
Indie Publishers
---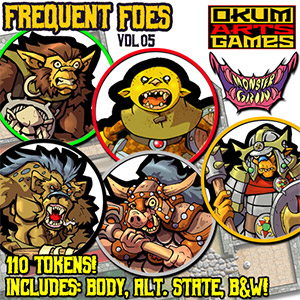 Frequent Foes, Volume 5
Swell your ranks with Monster Grin's Frequent Foes token packs! These packs provide tokens for all of the "usual suspects" that one expects to encounter while gaming: goblins, orcs, dark elves, ogres, and more. In this pack, canny DMs/GMs will find 132 amazingly crafted tokens from our partners Okum Arts Games that depict heartless Hobgoblins, beastly Bugbears, growling Gnolls and much more!
Utilize Monster Grin's Token Halo System to create different types of teams (red, gold, green, black, silver, or blue), or even different levels of the same kind of creature (i.e. boss, high, medium, or low level) to help keep track of what's what and who's who. Also, with Monster Grin's new Altered States tokens, you can get maximum value from each and every token in this pack and really add that special something to your game!
This token pack includes (ringed in black, blue, gold, green, greyscale, and silver, as well as ethereal, invisible, stone-skinned, sand-skinned, and altered state versions):
Bugbear
Gnoll
Goblin
Hobgoblin
Orc
Converted by:  James Holloway
Requires:An active subscription or a one time purchase of a Fantasy Grounds Full or Ultimate license and any ruleset.
Owned by Brannon Hollingsworth DBA Monster Grin. Copyright (C) 2018. Used with permission. All rights reserved.
Released on July 18, 2018
Designed for Fantasy Grounds version 3.3.5 and higher.
Screenshots
IPFGMGTP05FF