Supers, Volume 1
Indie Publishers
---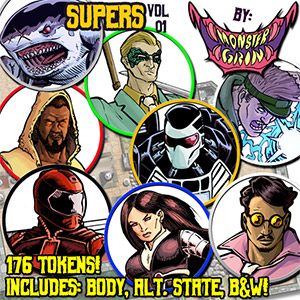 Supers, Volume 1
Got a little something your players need to avenge? Perhaps you need to form a league of justice to battle the forces of darkness in your city? Well, wait no more with Monster Grin's 176 unique tokens of supers, superheroes, super-heroines, and super-villans, each usable as PCs, NPCs, mooks, antagonists, or protagonists! Stunning, more-than-four-color pieces can become motorcycle-riding, sword-swinging crusaders, psionically-charged, Russian she-assassins, savage, mutant shark-men, and more!
Utilize Monster Grin's Token Halo System to create different types of teams (red, gold, green, black, silver, or blue), or even different levels of the same kind of creature (i.e. boss, high, medium, or low level) to help keep track of what's what and who's who and bring your game up to date! Also, with Monster Grin's new Altered States tokens, you can get maximum value from each and every token in this pack and really add that special something to your game!
This token pack includes (ringed in black, blue, gold, green, greyscale, and silver, as well as ethereal, invisible, stone-skinned, sand-skinned, and altered state versions):
Hoodie Wearing, Fire-Wielding Thug/Homeless Guy

Domino Masked, Suit-Wearing Hero/Villan With Swordcane

Motorcycle Geared, Sword-Wielding Crusader

Psi-blade Bearing, Russian She-Assassin

Savage, Mutant Shark-man

Stylish Wizard/Librarian with Flying Books

Energy Wielding, Leaping Super Sandwich Artist

Tuxedo Power Armor Robot/Hero
Converted by: James Holloway
Requires: An active subscription or a one time purchase of a Fantasy Grounds Full or Ultimate license and any ruleset.
Owned by Brannon Hollingsworth dba Monster Grin (C) 2018, used with permission, all rights reserved.

Released on June 06, 2018
Designed for Fantasy Grounds version 3.3.5 and higher.
Screenshots
IPFGMGTP01SU