Meanders Token Pack 6
Indie Publishers
---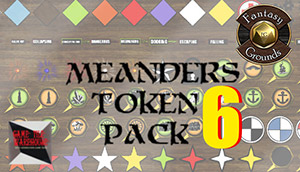 Meanders Token Pack 6
This FG Meanders Token Pack features over 200 pre-sized tokens in a convenient module with a wide range of assets to suit fantasy games and in particular the Meanders Map series - allowing those who use them art assets that match.
This set is designed as a starter set of much-needed RPG icons, labels and symbols for use within Fantasy Grounds adventures.
Assorted shapes such as Diamonds, Stars, Circles, Triangles in a wide range of colours
Tickmarks
Height and Depth Markers from 5ft-100ft marked in colour
Compass Roses
Assorted Skull and Crossbones, Handprints, Arrows
A Range of transparent coloured Light Sources
Trap, Trap Disarm Tokens
Griffon/Shield markers for armies.
Target markers in red and yellow and transparent
Zzz markers for Gas, magic and normal sleep indication.
Treasure Chest, X and First Aid icons.
Danger Markers
A Range of colour-coded Action Labels such as Safe, Dangerous, Collapsing, Hiding, Dodging, Helping, Escaping etc.
A huge range of World Location Markers in Green and Yellow pointers for marking regional maps.
Speech bubbles and coloured tags
[Custom FG Battle Maps on which tokens are illustrated not included]
Converted by:  Kris Mc Dermott
Requires:An active subscription or a one time purchase of a Fantasy Grounds Full or Ultimate license and any ruleset.
Owned by Game Tile Warehouse. Copyright (C) 2019. Used with permission. All rights reserved.
Released on September 10, 2019
Designed for Fantasy Grounds version 3.3.7 and higher.
Screenshots
IPFGANYGTWMTP6
Customers Who Bought This Item Also Bought