Darkwoulfe's Token Pack Volume 22
Indie Publishers
---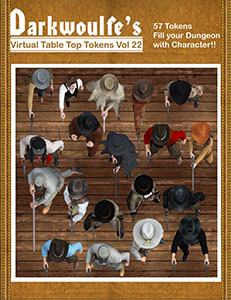 Darkwoulfe's Token Pack volume 22
Created by Riley D. Owens (aka Darkwoulfe), this product consists of 55 top-down uniquely designed, 3d rendered tokens, depicting heroes, villains and monsters. You can use these to replace the letter tokens or built-in tokens in many popular adventure modules. Just unlock the encounters and drag these over top or drag them over top of the listing in your combat tracker.
This Token Pack includes:
Brijitte Maldeaux Down
Brijitte Maldeaux Fighting
Brijitte Maldeaux Riding with Double Barrel
Brijitte Maldeaux Riding
Brijitte Maldeaux with Pistol
Brijitte Maldeaux
Calamity Jean
Confederate Officer Down
Confederate Officer Riding
Confederate Officer Standing
Confederate Officer with Pistol
Confederate Soldier Dead
Confederate Soldier Down
Confederate Soldier Fighting
Confederate Soldier Kneeling with Rifle
Confederate Soldier Riding
Confederate Soldier Standing
Confederate Soldier with Pistol
Confederate Soldier with Rifle
Cowboy Gunman in Black
Cowboy Gunman in Beige
Cowboy Gunman in Blue
Cowboy Gunman in Green
Cowboy Gunman in Red
Cowboy Gunman in Yellow
Desparado Dead
Desparado Fighting with Knife
Desparado Fighting
Desparado in Black Coat Dead
Desparado in Black Coat Fighting
Desparado in Black Coat with Rifle
Desparado in Black Jacket Dead
Desparado in Black Jacket Fighting
Desparado in Black Jacket with Rifle
Desparado in Brown Coat Fighting
Desparado in Brown Coat with Dead
Desparado in Brown Coat with Rifle
Desparado with Black Cap Dead
Desparado with Rifle
Desperado in Black Coat Riding
Desperado in Brown Coat Riding
Desperado Riding
Desperado with Black Cap Fighting
Desperado with Black Cap Firing a Rifle
Desperado with Black Cap Riding
Desperado with Black Cap
Desperado with Black Coat
Desperado with Black Jacket Riding
Desperado with Black Jacket
Desperado
Gunslinger in Duster
Outlaw with Shotgun
Rebel Outlaw
Van Cleaf with Rifle
Western Bounty Hunter
Requires: An active subscription or a Fantasy Grounds full or ultimate license and any Ruleset.
Some artwork copyright © 2016 Darkwoulfe(Riley Owens) All Rights Reserved.
Fantasy Grounds is a trademark of SmiteWorks USA LLC. © 2016 SmiteWorks USA LLC. ALL RIGHTS RESERVED.
Released on October 20, 2016
Designed for Fantasy Grounds version 3.1.7 and higher.
Screenshots
IPFGANYDWTP22