Adventures from the Potbellied Kobold: 15 Adventures for 5E
Indie Publishers
---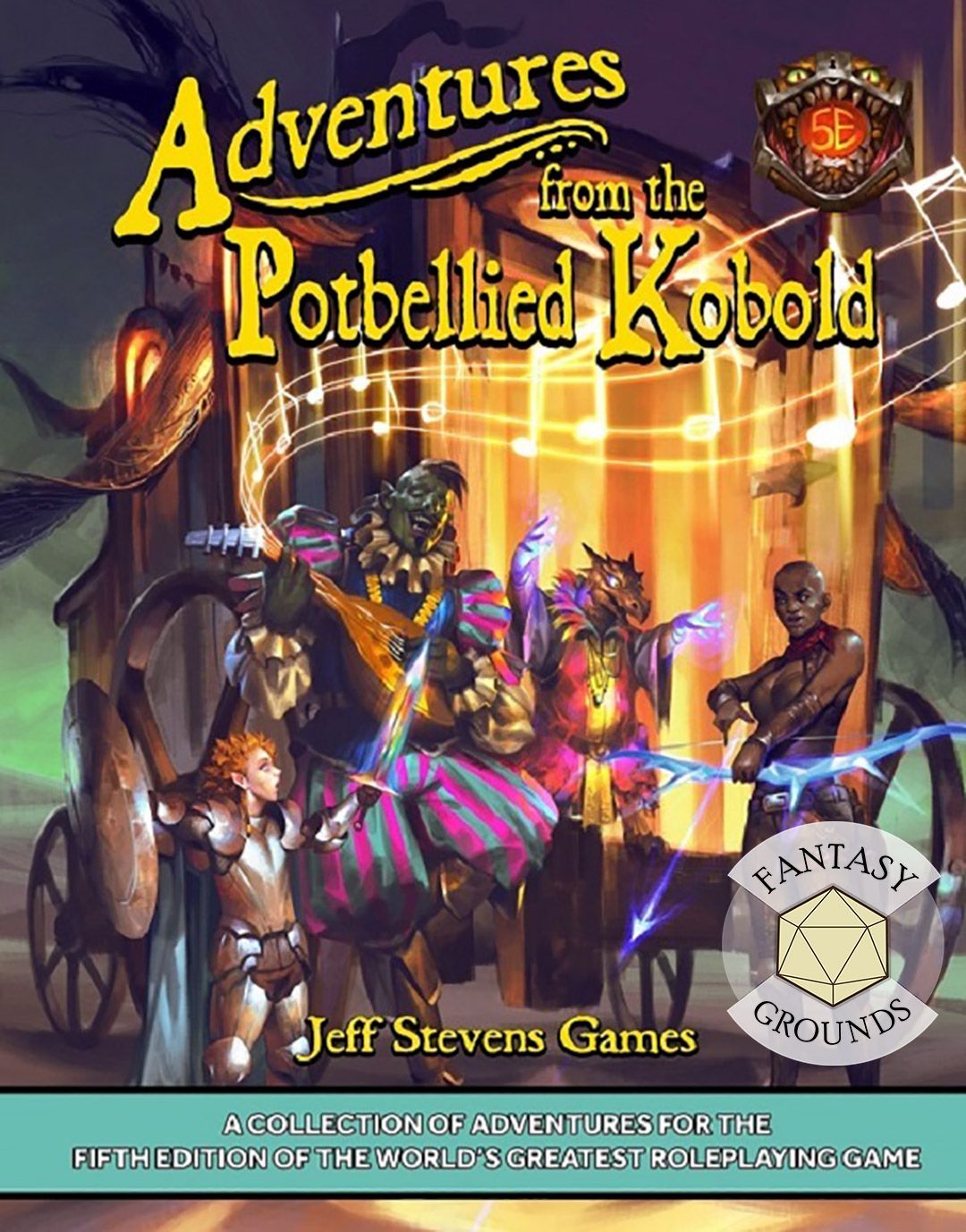 Adventures from the Potbellied Kobold: 15 Adventures for 5E
Adventures from the Potbellied Kobold provides you with fifteen unique adventures to use as one-shots, additions to your current campaign, or inspiration for a new campaign. We've even included a way to link several of the adventures, allowing you to run a short and quick campaign.
Head Into the Clouds by JVC Parry (3rd level)
Unravel the Murder at Sable Mansion by Oliver Darkshire (3rd level)
Battle constructs in Clunkspindle's Clockwork Conundrum by MT Black (3rd level)
Explore the Slime Cave of Norwal by James Introcaso (4th level)
Investigate a home for retired adventurers in The Instability of Isolation by Toni Winslow-Brill (5th level)
Encounter creatures of time in Tick Tock by Greg Marks (9th level)
Plus 9 more adventures!
The adventures use basic 5E creatures, custom creatures, and several Kobold Press creatures.
Each adventure is written for a specific party level, but we've also included suggestions on how to adjust each adventure for a weaker or stronger adventuring party.
In addition to fun adventures, you'll also find a few new magic items and NPCs to add to your game.
Adapted for Fantasy Grounds by: Rob Twohy, and Jeffrey Stevens
Requires: An active subscription or a one time purchase of a Fantasy Grounds Full or Ultimate license and the included 5E Compatible ruleset.
Screenshots may differ from what you see in-game based on the extension and ruleset you have loaded and if you are running Fantasy Grounds or Fantasy Grounds Unity.
Owned by [Indie Publisher]. Copyright (C) 2021. Used with permission. All rights reserved.
Released on July 28, 2021
Designed for Fantasy Grounds version 3.3.7 and higher.
Screenshots
IPFG5EJSAFTPK