TIMEZERO: The Mirrors of Carthage (Savage Worlds)
GRAmel
---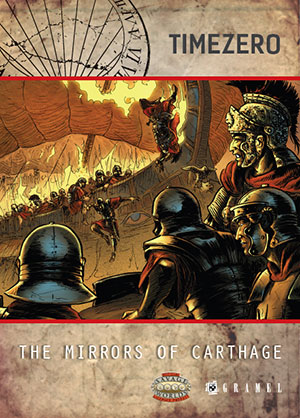 TIMEZERO: The Mirrors of Carthage
Time Emergency! Operations teams Alpha, Beta and Gamma to the briefing room! Prepare to intervene on the timeline!
GRAmel's line of time travel adventures takes you through the mists of time to stop chronoterrorists, prevent time anomalies, and save the continuum from obliteration!
This issue contains a single, stand-alone adventure and an additional mat
The Mirrors of Carthage: A mysterious temporal anomaly is detected by TimeGuard in Syracuse, Italy, 212 BC, just a few days before the famous battle in which Archimedes, the mathematical genius, was killed. Is it just a natural phenomenon, or something darker happening in the far past?
Sieges, battles, forbidden cults, and the subtleties of Roman politics await the Operatives in the age of the Punic Wars!
Sunday Files Expansion – Inventors of the Timeline: In this expansion you'll find useful information about the Patent Office, a special branch of Timezero which must watch over the greatest minds of the timeline. In this appendix are detailed several known and unknown inventors of human history, men and women who with their discoveries greatly furthered the advance of mankind. These same people, if not monitored and controlled, could wreak havoc throughout the entire continuum! In addition there are special rules tweaks to help you play an inventor-type Operative!
Fantasy Grounds Conversion: Jeannette Jarrar
Requires: An active subscription or a one time purchase of a Full or Ultimate license and the Savage Worlds Ruleset.
Suggested: TIMEZERO: Operatives Manual
Copyright (c) 2017 Gramel TimeZero and all related marks and logos are trademarks of Gramel. All Rights Reserved.
The Savage Worlds Ruleset (Fantasy Grounds Conversion) by SmiteWorks USA, LLC, (C) 2017, ALL RIGHTS RESERVED. The Savage Worlds Ruleset format, programming code, and presentation is copyrighted by SmiteWorks USA, LLC and Pinnacle Entertainment Group. Redistribution by print or by file is strictly prohibited.
Fantasy Grounds is a trademark of SmiteWorks USA, LLC (C) 2017. ALL RIGHTS RESERVED.
Released on March 23, 2017
Designed for Fantasy Grounds version 3.2.2 and higher.
Screenshots
GRAFGSWTIMEZERO02TMOC