Beasts & Barbarians Steel Edition Player Guide
GRAmel
---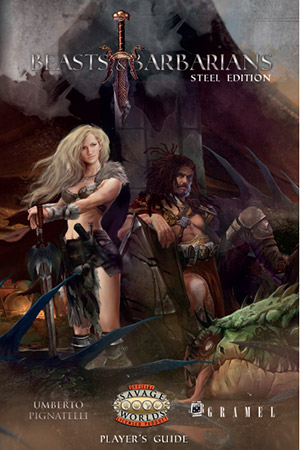 Beasts & Barbarians Steel Edition Player's Guide
This product includes:
Summarized descriptions of the lands and the history of the Dominions
Accurate descriptions of the various playable cultures, including clothing, religion, technology and so on.
More than 40 new Hindrances and Edges to create sword and sorcery heroes.
Specific gear (from loincloths to Amazon Hawk Ships)
Three custom-made arcane backgrounds and their specific trappings: sorcery, Lotusmastery and enlightenment.
Setting rules including After the Adventure events, crafting rules, expanded mass battle rules
And much more!
Converted by:
Scott Geeding
Owned by GRAmel (c) 2019. Used with permission. All rights reserved.
The Savage Worlds Ruleset (Fantasy Grounds Conversion) by SmiteWorks USA, LLC, (C) 2019, ALL RIGHTS RESERVED. The Savage Worlds Ruleset format, programming code, and presentation is copyrighted by SmiteWorks USA, LLC and Pinnacle Entertainment Group.
Released on May 29, 2018
Designed for Fantasy Grounds version 3.3.5 and higher.
Screenshots
GRAFGSWBNBS1PG