Fantasy Token Pack 1
Grim Press
---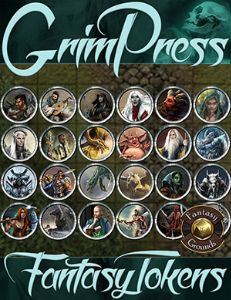 Fantasy Token Pack 1
This pack contains 105 detailed art tokens to use in your fantasy campaigns, each optimized for use in any Fantasy Grounds ruleset. Art by Bob Greyvenstein , produced by Grim Press .
Maps shown in the screenshots are not included with this token pack.
Adapted for Fantasy Grounds by: Aaron Gentry
Requires: An active subscription or a one time purchase of a Fantasy Grounds Full or Ultimate license and any ruleset. Compatible with Fantasy Grounds Unity or Fantasy Grounds Classic
Owned by Grim Press (C) 2021. All rights reserved.
Released on September 01, 2020
Designed for Fantasy Grounds version 3.3.7 and higher.
Screenshots
GPFTP1