Deadlands Reloaded: Devil's Night
Pinnacle Entertainment Group
---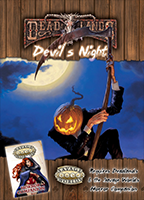 Deadlands Reloaded: Devil's Night
Adventure for the Fantasy Grounds virtual tabletop
A free simple adventure from Pinnacle Entertainment Games converted for play within the Fantasy Grounds virtual tabletop. It is perfect for inclusion in your existing Deadlands Reloaded campaign or as a one-shot!
The trouble takes place a few miles outside of Wichita, Kansas. Some local boys have fallen into a lifeless coma and some claim their souls are about to be forfeit to the devil. Can the posse get to the bottom of things before more hell breaks loose...on Devil's Night?
This adventure showcases some of the new rules found in the Savage Worlds Horror Companion, which is required to play it as intended. The product will function without the Horror companion.
Requires: A Fantasy Grounds full or ultimate license, the Savage Worlds v3 Ruleset
Recommended: Deadlands Reloaded Player's Guide module and the Deadlands Reloaded Marshalls module and the SW Horror's Companion
Fantasy Grounds II Conversion: Kevin Doswell
(c) 2017 Pinnacle Entertainment Group. Deadlands, Smiling Jack, Savage Worlds, and all related marks and logos are trademarks of Pinnacle Entertainment Group. All Rights Reserved.
The Savage Worlds Ruleset (Fantasy Grounds II Conversion) by SmiteWorks USA, LLC, (C) 2017, ALL RIGHTS RESERVED. The Savage Worlds Ruleset format, programming code, and presentation is copyrighted by SmiteWorks USA, LLC and Pinnacle Entertainment Group. Redistribution by print or by file is strictly prohibited.
Fantasy Grounds II is a trademark of SmiteWorks USA, LLC (C) 2012. ALL RIGHTS RESERVED.
Released on January 02, 2012
Designed for Fantasy Grounds version 2.9.9 and higher.
Screenshots
DevilsNight