Heroic Characters 7 Token Pack
Devin Night
---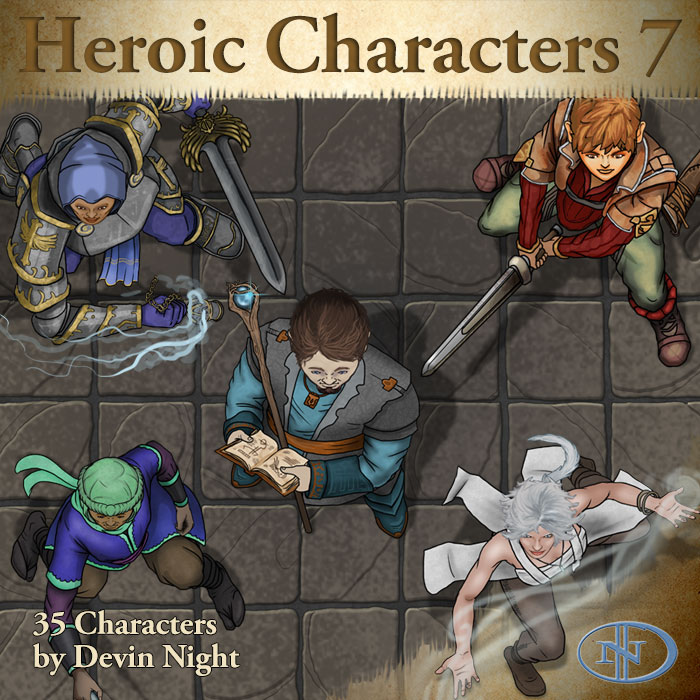 This product is part of a bundle. Complete the set and save on all bundled products you don't already own and all future additions to the bundle.
Devin Night Token Bundle Set 2
This product is token module containing tokens for use with the Fantasy Ground virtual tabletop. Upon activating the module, the tokens will appear in your Token box for use throughout your game.
This token pack contains 35 new character tokens for use as PCs or NPCs.
Asimar_F_SpearFighter
Bunny_F_Death_Character
HalfElf_Male_Oracle_Davorn
Human_F_Paladin
Human_F_Pirate
Human_F_Ranger
Human_F_Spear_Woman
Human_F_Sworder
Human_F_WhiteMage
Human_M_Barbarian3
Human_M_Bard
Human_M_Cleric
Human_M_Demonhunter2
Human_M_Demonhunter3a
Human_M_Demonhunter3
Human_M_DemonHunter
Human_M_DreamFighter
Human_M_Evil_Mage_flying
Human_M_Evil_Mage
Human_M_Evil_Mage_standing
Human_M_Fencer_Barret2
Human_M_Fencer_Barret
Human_M_FighterSnB
Human_M_Fighter_AP
Human_M_Fighter_Wollny
Human_M_Paladin
Human_M_Rogue_Iz
Human_M_Rogue
Human_M_Scholar_Alwin
Human_M_Scholar_Mage
Human_M_Scout2
Human_M_Scout
Human_M_ShadowKnight
Human_M_Wizard
Sylph_M_Wizard
(c) 2015 Devin Night. All Rights Reserved.

Requires: A Fantasy Grounds full or ultimate license. This product should work with all rulesets.

Fantasy Grounds Conversion: Doug Davison

Fantasy Grounds is a trademark of SmiteWorks USA, LLC (C) 2015. ALL RIGHTS RESERVED.

Released on July 20, 2015
Designed for Fantasy Grounds version 3.1.2 and higher.
Screenshots
DNTP64FG2