Heroic Characters 14 (Token Pack)
Devin Night
---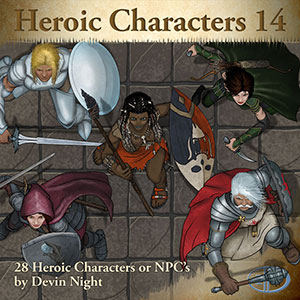 This product is part of a bundle. Complete the set and save on all bundled products you don't already own and all future additions to the bundle.
Devin Night Token Bundle Set 2
Heroic Characters 14
This token pack contains 28 tokens. This pack contains A variety of tokens that can be used as PC or NPC's in your virtual games.
This Token Pack includes:
Female Human Alchemist
Female Caped Fighter
Female Human Monk
Female Human Necromancer
Female Human Rogue
2 Female Human Seductresses
Male Fop
Male Human Barbarian
Male Human Battle Master
2 Male Human Bear Barbarians
Male Human Blue Paladin
4 Male Human Clerics
Male Human Dark Knight
Male Human Dragonslayer
3 Male Human Paladins
Male Human Ranger
Male Human Swordsman
Male Log Fighter
Male Voodoo Fighter
Male Voodoo Monk
Male Voodoo Archer
Requires: An active subscription or a one time purchase of a Fantasy Grounds Full or Ultimate license and any ruleset.
Some artwork copyright © 2017 Devin Night. All Rights Reserved.
Fantasy Grounds is a trademark of SmiteWorks USA LLC. © 2017 SmiteWorks USA LLC. ALL RIGHTS RESERVED.
Released on April 02, 2017
Designed for Fantasy Grounds version 3.2.2 and higher.
Screenshots
DNFGANYNTPHC14