Adventuring Animals (Token Pack)
Devin Night
---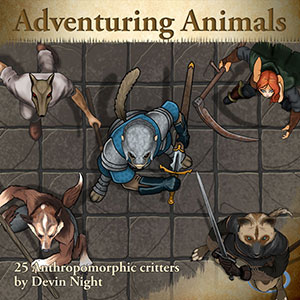 This product is part of a bundle. Complete the set and save on all bundled products you don't already own and all future additions to the bundle.
Devin Night Token Bundle Set 2
Adventuring Animals
This token pack contains 25 tokens. This pack contains a variety of anthropomorphic animals looking for adventure.
This Token Pack includes:
Corgi Fighter
Female Wild Dog
Female Wild Dog Monk
Male Armored Wild Dog
Male Wild Dog
Female Bunny
Jackal Barbarian
2 Jackal Fighters
Jackal Lyrie
Male Jackal Abstalar Zantus
2 Male Clerics
Male Jackal Cultist
Male Jackal Peasant
Jackal Shop Keeper
Meercat Barbarian
Meercat Bard
Meercat Body
Meercat Fighter
Meercat Mage
Meercat Priest
Meercat Ranger
Meercat Rogue
wolf Man
Requires: An active subscription or a one time purchase of a Fantasy Grounds Full or Ultimate license and any ruleset.
Some artwork copyright © 2017 Devin Night. All Rights Reserved.
Fantasy Grounds is a trademark of SmiteWorks USA LLC. © 2017 SmiteWorks USA LLC. ALL RIGHTS RESERVED.
Released on April 02, 2017
Designed for Fantasy Grounds version 3.2.2 and higher.
Screenshots
DNFGANYNTPADAN