Dead Light (CoC7E)
Chaosium
---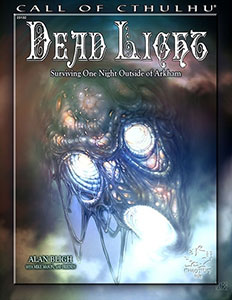 Dead Light
The storm had been brewing for days and now it hits! Combined with restless, idle youth and the desire for easy money, something has been released out there amid the darkness, the howling wind, and lashing rain.
Dead Light is an adventure scenario for the Call of Cthulhu roleplaying system designed to be played in one or more gaming sessions. An exercise in Lovecraftian-flavored survival horror, the unwitting investigators are caught up in a spiral of terror where only their quick thinking, and courage, will see them through till the clouds clear and a new dawn beckons.
Suitable as a stand alone adventure or as a sidetrack within a larger campaign, Dead Light is set in Lovecraft Country, north of Arkham, during the early 1920s and is ideal for groups of between three to six players.
This is one journey your players will not soon forget.
By Alan Bligh with artwork by David Oliver, Rebecca Conway
Converted by: Colin Richardson
Requires: An active subscription or a one time purchase of a Fantasy Grounds Full or Ultimate license and a one time purchase of the Call of Cthulhu 7E Ruleset.
Some content Copyright ©2016 Chaosium inc. ALL RIGHTS RESERVED.
Fantasy Grounds is a trademark of SmiteWorks USA LLC. © 2016 SmiteWorks USA LLC. ALL RIGHTS RESERVED.
Released on January 03, 2017
Designed for Fantasy Grounds version 3.2.1 and higher.
Screenshots
CHAFGCOC7EDL