Blackwater Creek (CoC7E)
Chaosium
---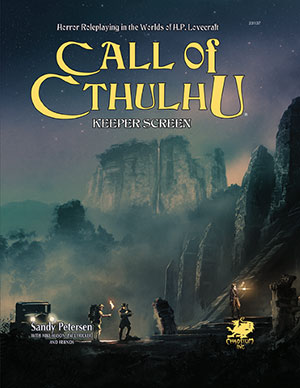 Blackwater Creek
First of two adventures included in the Keeper's Screen for Call of Cthulhu 7th Edition.
In Blackwater Creek, three or more investigators travel to the rural town of Cade's Rest to investigate the disappearance of an archaeological professor from Miskatonic University, only to discover that something sinister is taking over both the town and the wilderness.
In Blackwater Creek, two alternate introductions are provided to entice investigators into the town; that of associates of the university, and as criminal bootleggers. The module is suitable for new or seasoned investigators, but is weighted towards new groups.
This module has been streamlined for easy play in Fantasy Grounds, including all Story elements, NPCs, Creatures, Images, and Maps.
Blackwater Creek is the first converted module from the Keeper's Screen for use with Fantasy Grounds. Missed Dues will be converted in the future, and sold separately. Each module is a stand-alone module.
By Mike Mason, Scott Dorward, and Paul Fricker. Screen art by Ardila; scenario art by Pat Loboyko, Chris Huth, and Chris Lackey.
Converted by: Brian Hill
Requires: An active subscription or a one time purchase of a Fantasy Grounds Full or Ultimate license and a one time purchase of the Call of Cthulhu 7E Ruleset.
Some content Copyright ©2017 Chaosium inc. ALL RIGHTS RESERVED.
Fantasy Grounds is a trademark of SmiteWorks USA LLC. © 2017 SmiteWorks USA LLC. ALL RIGHTS RESERVED.
Released on March 07, 2017
Designed for Fantasy Grounds version 3.2.2 and higher.
Screenshots
CHAFGCOC7EBC