Call of Cthulhu: Masks of Nyarlathotep
Chaosium
---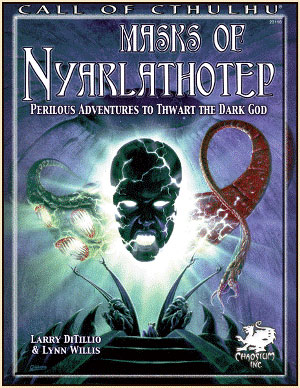 Perilous Adventures to Thwart the Dark God
A Library Module for use with the Fantasy Grounds virtual tabletop
Soon Nyarlathotep's plans will come to fruition. Then the world will be changed irrevocably -- but not quite yet. Pesky human investigators have learned much. Now they must survive long enough to make sense of what they know, and take resolute action.

Masks of Nyarlathotep is a Lovecraftian exercise in horror and mystery. This Call of Cthulhu roleplaying classic is a series of linked adventures forming one long and unforgettable campaign. Horrifying deeds and dangerous sorcery dog those who dare attempt to unravel the fate of the Carlyle Expedition.

Set in 1925, adventures begin in New York, then move overseas to England, Egypt, Kenya Colony, Shanghai, and western Australia. Such extended globetrotting requires wit and planning by the players. Their investigators must have steady finances, good language skills, and a willingness to persevere despite governmental interference and cultist harassment. Meanwhile the keeper must bring to life different exotic locales, recreate the sensibilities of other cultures, and balance non-player-character foes and friends to allow each investigator to earn his or her own destiny--ultimate triumph, perhaps, or perhaps madness and agonizing death.
By Lary DiTillio and Lynn Willis, with Geoff Gillan, Kevin A. Ross, et al.; Illustrated by Nick Smith, Tom Sullivan, and Jason Eckhardt. Cover by Lee Gibbons.
Requirements: Full or Ultimate License of Fantasy Grounds and the Call of Cthulhu ruleset.
Conversion to FG by: Alan Neilson
CALL OF CTHULHU
Horror Roleplaying in the Worlds of H.P. Lovecraft
Call of Cthulhu is published by Chaosium Inc.
Call of Cthulhu is the registered trademark of Chaosium Inc.
Fantasy Grounds II is a trademark of SmiteWorks USA LLC. (C) 2011 SmiteWorks USA LLC. ALL RIGHTS RESERVED. Visit the Fantasy Grounds II website at http://www.fantasygrounds.com for more product information.
Similarities between characters in Call of Cthulhu and persons living or dead are strictly coincidental.
This product is Copyright 2011, Chaosium & SmiteWorks USA, LLC. Used with permission from Chaosium. This product's format, programming code, and presentation is copyrighted by SmiteWorks USA, LLC. Redistribution by print or by file is strictly prohibited.
Released on August 20, 2011
Designed for Fantasy Grounds version 2.9.9 and higher.
Screenshots
CHA23118FG2