In Search of the Trollslayer
Chaosium
---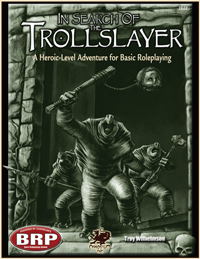 A BRP Fantasy Adventure module for Fantasy Grounds
In Search of the Trollslayer A Heroic-Level Fantasy Adventure for Basic Roleplaying By Troy Wilhelmson
Deep in the heart of a perilous swamp lie the ruins of a cursed shrine. Within its crumbling walls lies an artifact of ancient power, a spear called "The Trollslayer." Heroes must now retrieve the forgotten weapon, but can they overcome the evil that resides within the rotting temple?
In Search of the Trollslayer is a heroic-level fantasy adventure for Chaosium's Basic Roleplaying RPG. Includes six pre-made characters so players can jump right into the action.
By Troy Wilhelmson.
Requirements: Full or Ultimate License of Fantasy Grounds and the Basic Roleplaying (BRP) ruleset.
Fantasy Grounds II is a trademark of SmiteWorks USA LLC. (C) 2010 SmiteWorks USA LLC. ALL RIGHTS RESERVED. Visit the Fantasy Grounds II website at http://www.fantasygrounds.com for more product information.
The reproduction of material from within this product for the purposes of personal or corporate profit, by file, photographic, optical, electronic, or other media or methods of storage and retrieval, is prohibited.
This product is Copyright 2010, SmiteWorks USA, LLC. Used under license from Chaosium. This product's format, programming code, and presentation is copyrighted by SmiteWorks USA, LLC. Redistribution by print or by file is strictly prohibited.
Released on August 24, 2010
Designed for Fantasy Grounds version 2.9.9 and higher.
Screenshots
CHA2022FG2