BRP Witchcraft
Chaosium
---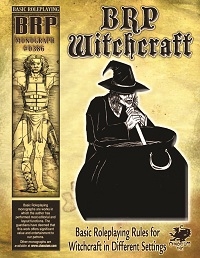 BRP Witchcraft for Fantasy Grounds
A Basic Roleplaying (BRP) library module for Fantasy Grounds
The village wise-woman creating herbal mixtures to cure her neighbours of the latest plague to curse their homes, the crone who disguises herself as a beautiful young woman to entice men to their doom, the travelling warlock who trades in potions and talismans which may or may not be truly magical. These are all examples of witches; men and women for whom witchcraft is an art and a profession.
Within this monograph you will find new spells common to witches, rules for brewing magic potions and rules for creating talismans - a new kind of one-shot magic item in which the witch invests a portion of their soul for a short time. There are also descriptions of various witches' organisations, and optional allegiance rules for flavouring magic 'black' or 'white'.
BRP: Witchcraft is a monograph best suited to Dark Ages, High Medieval, High Fantasy, Arabian Nights and Renaissance settings. However, there is nothing to stop you playing a modern witch selling magic potions under the table at a local diner or an apocalypse survivor rediscovering the old ways.
This product contains a library module fully converted for display and use within fantasy grounds.
By Byron Alexander, illustrations by Seskimo.
Requirements: Full or Ultimate License of Fantasy Grounds and the Basic Roleplaying (BRP) ruleset.
Fantasy Grounds II is a trademark of SmiteWorks USA LLC. (C) 2010 SmiteWorks USA LLC. ALL RIGHTS RESERVED. Visit the Fantasy Grounds II website at http://www.fantasygrounds.com for more product information.
The reproduction of material from within this product for the purposes of personal or corporate profit, by file, photographic, optical, electronic, or other media or methods of storage and retrieval, is prohibited.
This product is Copyright 2010, SmiteWorks USA, LLC. Used under license from Chaosium. This product's format, programming code, and presentation is copyrighted by SmiteWorks USA, LLC. Redistribution by print or by file is strictly prohibited.
Released on January 09, 2011
Designed for Fantasy Grounds version 2.9.9 and higher.
Screenshots
CHA0386FG2