Kidnapping in Al-Halisa (with PDF)
Alephtar Games
---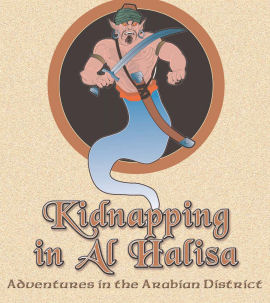 Kidnapping in Al-Halisa
An Adventure Module for use with the Fantasy Grounds virtual tabletop and BRP (Basic Roleplaying)
A young girl has disappeared and the heroes have only a few hours to rescue her before her captors carry her to the slave market. A classic plot in any fantasy roleplaying game, except that action takes place in thirteenth century Italy, and that the girl's prison is not a monster-filled dungeon but an Arabian district in a European city. However, the rescuers will soon discover that this labyrinth of alleys can host more dangers and more magic than a haunted cave.
This classic adventure for the Fantasy Earth setting is now presented in a format that allows immediate playability on your PC via the Fantasy Grounds virtual tabletop. This package also includes the full PDF version of the adventure, so you do not need to purchase it separately.
Requirements: Full or Ultimate License of Fantasy Grounds and the BRP ruleset.
Fantasy Grounds II is a trademark of SmiteWorks USA LLC. (C) 2010 SmiteWorks USA LLC. ALL RIGHTS RESERVED. Visit the Fantasy Grounds II website at http://www.fantasygrounds.com for more product information.
Released on April 23, 2012
Designed for Fantasy Grounds version 2.9.9 and higher.
Screenshots
ALG0004FG2