The Hounds of Adranos (Free)
Alephtar Games
---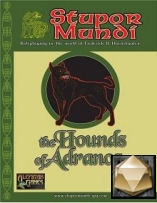 The Hounds of Adranos is an adventure for BRP Fantasy Europe, playable with the standard BRP rules. The action takes place on the slopes of the Sicilian volcano, mount Etna, and will lead the adventurers into its fiery depths.
This scenario includes:
six chapters of action-packed adventure
full stats for all NPCs and monsters
FG tokens for all characters in the adventure
three custom full-color maps of the Adranon dungeons
In order to play this scenario you will need the Basic Roleplaying ruleset for Fantasy Grounds
Free Download: here (647 KB)

Released on May 18, 2010
Designed for Fantasy Grounds version 2.9.9 and higher.
Screenshots
ALG0003FG2