AAW Map Pack Vol 1
AAW Games
---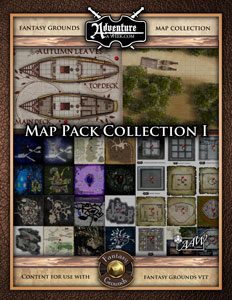 This product is part of a bundle. Complete the set and save on all bundled products you don't already own and all future additions to the bundle.
AAW GAMES MAP BUNDLE
This collection of maps custom built for the Fantasy Grounds virtual tabletop contains dozens of incredible maps for use in your campaign.
This three part collection contains all cartography released by Adventureaweek.com from 2011-2015, the maps are usable in any game system.
AAW Map Pack (Volume #1) contains 69 maps of various types and sizes.
Inside you will find:
Maps of various residential buildings.
Multiple maps of mills and towers.
Maps of different caverns.
Underdark and drow temples maps.
Four overland maps.
Maps of ship decks.
Maps for forest and city encounters.
Linked miniatures for all map types.
Works with all rulesets.




Requires: An active subscription or a one time purchase of a Fantasy Grounds Full or Ultimate license and any ruleset. Compatible with Fantasy Grounds Unity or Fantasy Grounds Classic

Owned by AAW Games. copyright (C) 2021. All Rights Reserved. Used with permission.

Released on December 15, 2015

Designed for Fantasy Grounds version 3.1.5 and higher.
Screenshots
AAWMP1FG