B01: Under His Skin
AAW Games
---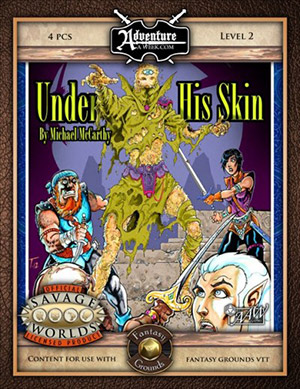 B01: Under His Skin
Under His Skin - A conversion of the 5e adventure for both Fantasy Grounds and Savage Worlds. The players become involved in the disappearance of a famous naturalist and must travel across a desert wasteland to his tower. Can they find their way through the maze-like jungle that surrounds Seben's Tower? Will they find their way past his wards and traps to find what became of him?
A Novice level adventure for four to six players.
By Michael McCarthy
Savage Worlds conversion by Mark Sim
Converted by:  Mark Sim
Requires:An active subscription or a one time purchase of a Fantasy Grounds Full or Ultimate license and a one time purchase of the Savage Worlds ruleset.
Owned by AAW Games. copyright (C) 2019. All Rights Reserved. Used with permission.
Released on July 23, 2019
Designed for Fantasy Grounds version 3.3.7 and higher.
Screenshots
AAWFGSWB01
Customers Who Bought This Item Also Bought