Black Scrolls Pirate and Ghost Ship (Map Tile Pack)
AAW Games
---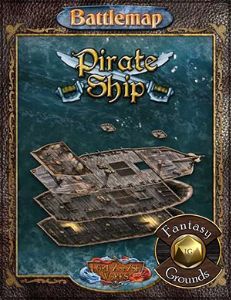 This product requires Fantasy Grounds Unity
Black Scrolls Pirate and Ghost Ship (Map Tile Pack)
Pirates.
A word that has caused sailors blood to run cold for centuries.
A name that has haunted our history for ages, yet there are worlds where piracy is still a part of everyday life.
But what happens if the crew goes to a watery grave weighed down by a curse? The barnacle and seaweed covered ship will follow its crew to the other side.
This is a three-masted and three leveled sailing ship. It's perfect to transport the biggest cargoes, but the cannons on deck appear ready for anything.
This set includes the following:
three maps broken into pages with and without water and grid

two styles: Pirate Ship and Ghost Ship

full-size, full-color images

2 description tiles (cover, description + content + 3 crow's nests)

6 tiles with Main Deck

6 tiles with Gunport level

6 tiles with Cargo Hold level

1 tile with the Captain's cabin
One set, two ships. The real adventure is just beginning!
Adapted for Fantasy Grounds by: Antal Keninger
Requires: An active subscription or a one time purchase of a Fantasy Grounds Full or Ultimate license and any ruleset. Requires Fantasy Grounds Unity
Owned by AAW Games. copyright (C) 2021. All Rights Reserved. Used with permission.
Released on August 25, 2020
Designed for Fantasy Grounds version 3.3.7 and higher.
Screenshots
AAWFGANYBSGPGS