5E Mini-Dungeon #013: The Case of the Scrupulous Pawnbroker
AAW Games
---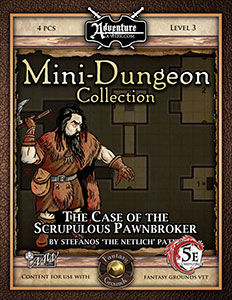 A 5E Mini-Dungeon for 4 Level 3 PCs
The PCs may have used the services of a local half-elven pawnbroker, Latricus. known to be stern, cold but fair in his dealings. Now they find his store open, none of his assistants present, and the door to his basement office (where serious transactions took place) invitingly ajar. Maron, a nasty sorcerer, and her thugs have recently decided to change the nature of their transgression with the pawnbroker and the PCs are just in time.
5E Mini-Dungeons are small adventures for 5th Edition which are setting agnostic and are easily inserted anywhere in your campaign.
Requires: A Fantasy Grounds full or ultimate license or an active subscription and the included 5E Ruleset.
Some content Copyright ©2016 AAW GAMES, LLC
Fantasy Grounds is a trademark of SmiteWorks USA LLC. © 2016 SmiteWorks USA LLC. ALL RIGHTS RESERVED.
Released on November 15, 2016
Designed for Fantasy Grounds version 3.2.1 and higher.
Screenshots
AAWFG5EMD013