U02 A Murder in Stoneholme (5E)
AAW Games
---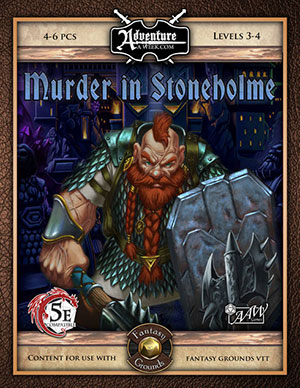 U02 Murder in Stoneholme (5E)
A 5E compatible adventure in the Underworld for four to six PCs of levels 3-4
A refuge in the underworld, Stoneholme stands neutral, its dwarves refusing to participate in any of the myriad struggles which occupy their neighbors. But, of late, evil has come to Stoneholme. Still recovering from recent supernatural events, the city now finds itself facing a mysterious killer, one whose face is never the same twice, and who leaves his victims cruelly cut and torn. The PCs must find the evidence which links the murders to the Flintblade clan, infiltrate their dark manor and bring their gruesome deeds to an end. But more than fell traps fill this dwarven home. Demonic sorcery is at work and the PCs will need all their courage and strength to survive.
Dark Deeds in Stoneholme is a follow-up adventure to Dark Days in Stoneholme, but it can also be used as a stand-alone scenario. The adventure features a series of grisly murders, a dangerous dwarven manor, demon-worshiping dwarves and a demonic, shape-shifting murderer. Though set in Stoneholme, the adventure can be easily ported to any non-evil underworld city.
Requires: An active subscription or a one time purchase of a Fantasy Grounds Full or Ultimate license and the included 5E Ruleset.
Some content Copyright ©2017 AAW GAMES, LLC. ALL RIGHTS RESERVED.
Fantasy Grounds is a trademark of SmiteWorks USA LLC. © 2017 SmiteWorks USA LLC. ALL RIGHTS RESERVED.
Released on May 25, 2017
Designed for Fantasy Grounds version 3.2.2 and higher.
Screenshots
AAWFG5EFG5EU02
Customers Who Bought This Item Also Bought