B14: The Battle for Bridgefort
AAW Games
---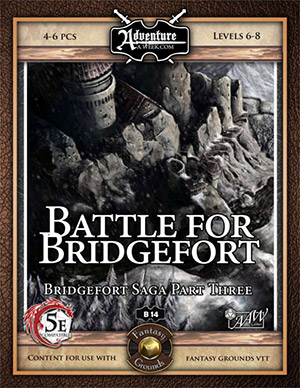 B14: The Battle for Bridgefort
A 5E Compatible Adventure for 4-6 heroes level 6-8
The city of Bridgefort is under siege! Hordes of humanoids are assaulting the city in an organized army.
Only the party stands between the enemy and the defenseless civilians of the Western Province.
Can they defeat the numerous foe and confont their leader determined to bring about the destruction or enslavement of the kingdom?
Also included in Battle for Bridgefort:
Fight enemies who use unusual tactics to attack the city, including tunneling, fly potions, and riding dire bats.
Use the parties skills to overcome difficult challenges, such as Knowledge (Engineering), Craft (Alchemy), Diplomacy, and more!
Work with notable NPCs who help the party as they move around in the defense of the city without controlling every aspect of the encounters.
Fight in a war where your successes and failures in each battle change the outcome, the final battle, and the rewards.
Complete with details of the city of Bridgefort, a fortified trading city rich in history that can be used in your campaign.
Perfect for experienced or beginning Game Masters!
Converted by:  Leonid Ponomarev
Requires:An active subscription or a one time purchase of a Fantasy Grounds Full or Ultimate license and the included 5E Compatible ruleset.
Owned by AAW Games. copyright (C) 2018. All Rights Reserved. Used with permission.
Released on November 08, 2018
Designed for Fantasy Grounds version 3.3.6 and higher.
Screenshots
AAWFG5EB14