B13: Frozen Nightmares
AAW Games
---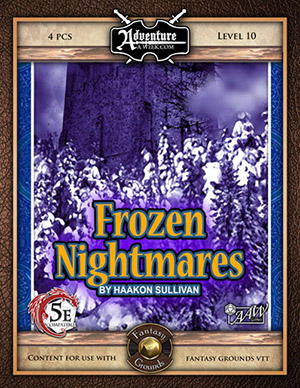 B13: Frozen Nightmares
A 5th Edition compatible adventure by Haakon Sulivan, designed for a party of 4-6 14th level PCs
When the mithral rush began in the northern region centuries ago, people from all over the world rushed to the area to find riches and glory.
Thus the town of Domandro was born to give the prospectors supplies, entertainment, and a warm bed in the frozen northern plains. However, the town mysteriously disappeared and forgotten even in the fringes of history.
Centuries after the town's disappearance and the subsequent fall of the mithral rush, one antique dealer named Wilhern Dobbenspeck has stumbles upon a document hinting at the town's existence.
Thinking he has found the historical find of the ages, he has put out a call for adventurers to prove the town ever existed.
Little does Dobbenspeck know that he's sending the expedition into a frozen nightmare of giants, undead, and something from out of this world.
This product includes:
A free roam adventure in a hazardous town
A new city with detailed background history for a cold northern region
A new spell, redirect teleport
Two new monsters, the fast moving carnigens and the scavenging frost vultures
Details on Elemental Princes, and the blessings and curses they can bestow on characters
Map by three time ENnie Award winning cartographer Todd Gamble
Converted by:  Shawn Green
Requires:An active subscription or a one time purchase of a Fantasy Grounds Full or Ultimate license and the included 5E Compatible ruleset.
Owned by AAW Games. copyright (C) 2018. All Rights Reserved. Used with permission.
Released on November 08, 2018
Designed for Fantasy Grounds version 3.3.6 and higher.
Screenshots
AAWFG5EB13