B04 The Cave Beast Hoard (5E)
AAW Games
---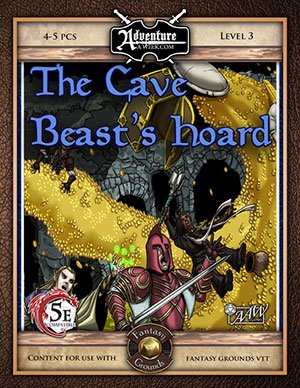 B04 The Cave Beast Hoard (5E)
A 5th Edition compatible adventure for three to five 3rd level PCs
Woodwall is an enchanted town protected by the very forests that surround it and its citizens are no strangers to the dangers of the woods. A new threat lurks throughout the region, however, a "cave beast" rumored to be the cause of a rash of recent disappearances in the area, leaving the people of this small settlement gripped with fear. There are a few particular locales that the local guard believe the creature frequents - with investigation and guile the party finds different remnants of Woodwall's ancient past in each spot, along with clues leading to the true malady to be fall this enchanted vale. The truth hides within Telonel Keep behind an innocuous infestation of traveling kobolds, but can the adventurers discover The Cave Beast's Hoard before the creature finds them?
Also included in "The Cave Beast's Hoard":
The unique settlement of Woodwall and the precocious fountain of the fey!
Variations on some of the monsters you know along with new creatures: Seratief the cursed, giant legwater spiders, and a treasure golem!
Two new magic items: balaya bark and the shard-launcher!
Puzzling sidequests that drive the plot forward in a sandbox adventure reworked by Mike Myler!
Two new maps by talented cartographer Tommi Salama!
New illustrations by the inimitable Jacob Blackmon!
Requires: An active subscription or a one time purchase of a Fantasy Grounds Full or Ultimate license and the included 5E Ruleset.
Some content Copyright ©2017 AAW GAMES, LLC. ALL RIGHTS RESERVED.
Fantasy Grounds is a trademark of SmiteWorks USA LLC. © 2017 SmiteWorks USA LLC. ALL RIGHTS RESERVED.
Released on April 16, 2017
Designed for Fantasy Grounds version 3.2.2 and higher.
Screenshots
AAWFG5EB04TCBH
Customers Who Bought This Item Also Bought