A19: Incandium's Eruption
AAW Games
---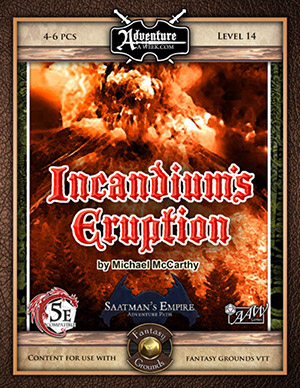 A19: Incandium's Eruption (5E)
A 5th Edition compatible adventure for four to six PCs of level 14.
Incandium's youth was fairly typical, at least for a half-dragon raised amongst dragons, filled with years of endless physical and mental abuse. It was always clear he was different than his clutch-mates, though his mother only claimed it was because he was 'special', never explaining what latent power his elemental blood held. And so, after studying magic and drawing on untold power, he slew his mother and claimed control over the volcano he called home, which he has ruled with an iron fist ever since. Now, however, he sees the PCs as a threat to his plans, and he calls them to the field of battle! Even if he is defeated, can the party stop his machinations to unleash a wave of dragons on Klavek's western border?
Also included in "Incandium's Eruption":
A new magic item, the bracer of shields
Two new alchemical solutions, azure powder and engraving solution
A new spell, redirect teleport
A new deity, Hado, the god of summer and judgment
Details on Elemental Princes, and the blessings and curses they can bestow on characters
Details on the Serpins Sanguis cult, including their origins and goals
Maps and Illustrations by 3x ENnie Award winning Cartographer Todd Gamble
Converted by:  Trevor Armstrong
Requires:An active subscription or a one time purchase of a Fantasy Grounds Full or Ultimate license and the included 5E Compatible ruleset.
Owned by AAW Games. copyright (C) 2018. All Rights Reserved. Used with permission.
Released on December 04, 2018
Designed for Fantasy Grounds version 3.3.6 and higher.
Screenshots
AAWFG5EA19