We are proud to announce that we are officially licensed to sell D&D (R) source material and content inside of Fantasy Grounds! This is the beginning of a great new partnership between SmiteWorks and Wizards of the Coast that will benefit gamers worldwide.
Player's Handbook Content
The D&D Complete Core Class Pack provides the entire contents of the D&D Player's Handbook, set up for ease of integration with Fantasy Grounds. Equipment, spells and abilities can be dragged and dropped to your digital character sheet and will unlock automation features when you enter combat or as you roleplay. The PC Customization Pack and individual classes can be picked up instead if you only want to play a specific class or two. These and all other packs are optional and are not required to play. They are available to save you time from having to enter anything yourself and often have a few extra components added in as well, such as portrait packs that are not a part of the original book materials.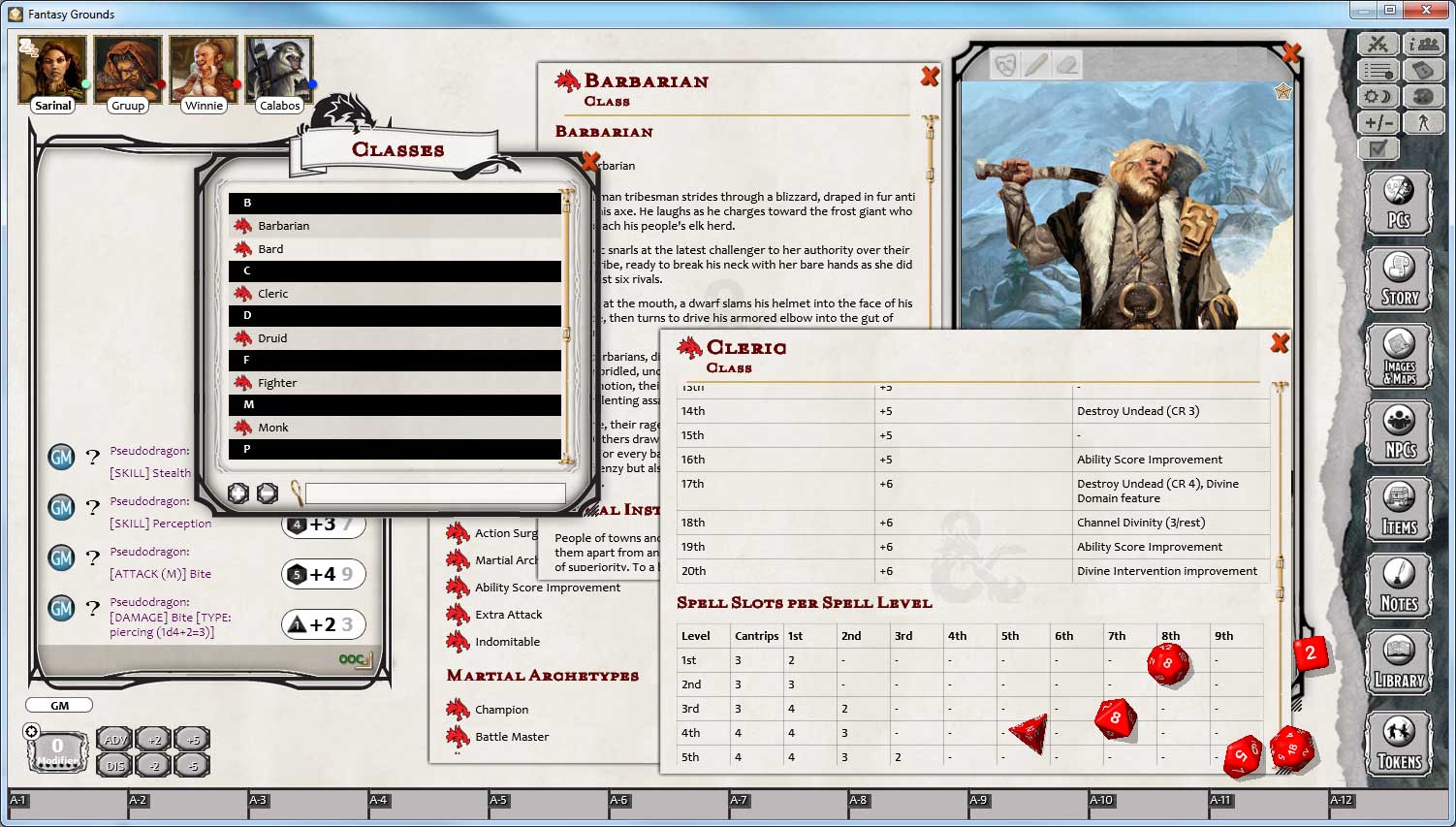 Monster Manual Content
Dungeon Masters can enter their own NPCs or pick up the D&D Complete Core Monster Pack to get all the monsters preloaded from the D&D Monster Manual. These preloaded entries will contain the descriptions of the monsters, with an image that can be handed out to players, and recognition for the special abilities and spells of the monsters. The spells are linked for ease of reference and preset with the proper DC or attack strings, making running combat with them a real breeze. The resistances of the monsters will also be automatically applied when they receive damage.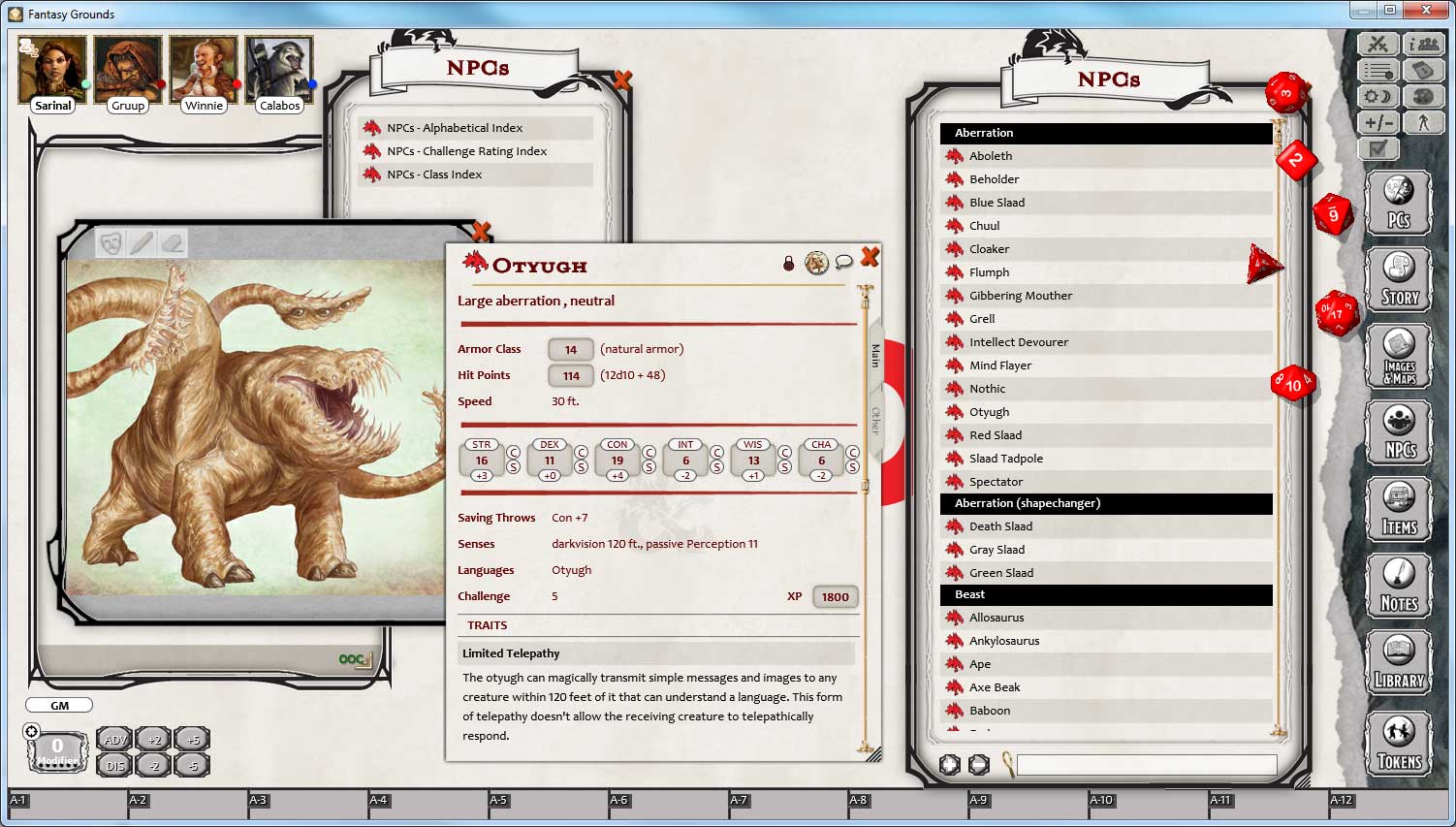 Dungeon Master's Guide
To top this off, the D&D Complete Dungeon Master's Guide contains the full contents of the D&D Dungeon Master's Guide. It has all the reference material and hundreds of random tables preloaded and ready to use for rolling up random treasure tables, determining NPC motivations and more. Going above and beyond, it also includes a new feature called the Item Forge. As presented in the DMG, the magic items are actually templates such as Magic Weapon +1 or Flaming Weapon. These have been pre-applied to each of the appropriate weapons to produce distinct weapon and armor sets. In addition, you can combine one or more magic item templates with one or more pieces of equipment to forge your own combinations of unique items. Each item comes with the description or stats and all the great artwork so you can share this with your players.
Ready-to-Run Adventures
Each of the adventures and accessories are available in a ready-to-play version for Fantasy Grounds. Wherever possible, maps have been separated into a DM view and a player view. The player view is scaled for movement of tokens in 5 foot squares and has hidden features removed. Each room is pre-linked to a story encounter which describes what is in the room and may have a further link to a combat encounter, NPC or a treasure parcel. Combat encounters will not only have every NPC preloaded, complete with spells, but will also have a token assigned and pre-placed in its starting location on the map. Launching the encounter automatically rolls the Initiative values for the NPCs, places them on the map and adds them to the combat tracker. You won't need to go flipping through multiple books to find the NPC you need when you are ready to run the encounter. There is no faster way to play D&D.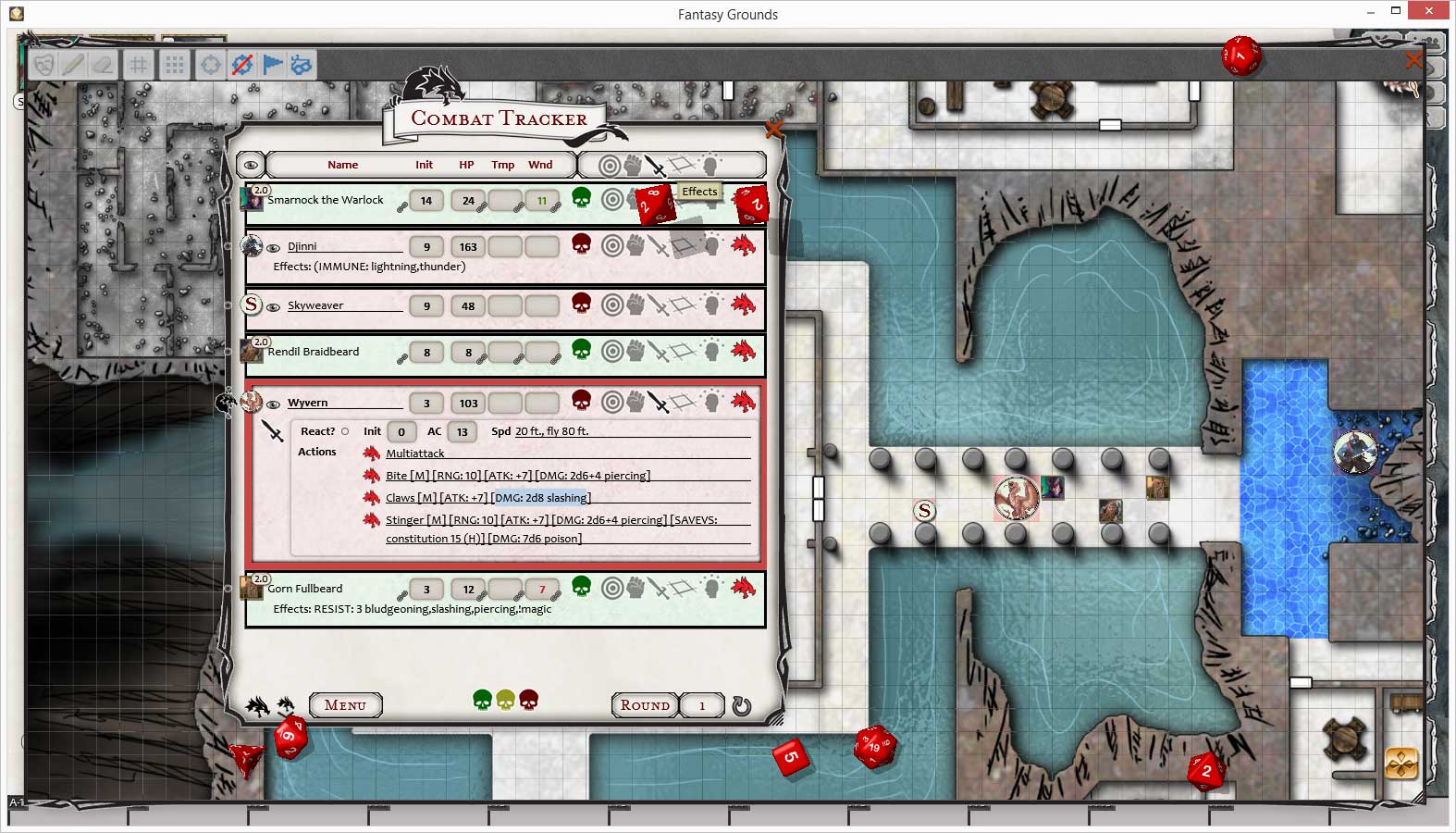 As a DM, you can choose to share access to your purchased library modules with connected players by using the built in library sharing features. Your players will be able to access these same player packs to quickly build characters. If they want access to these modules when they are not connected to you, then they will need a Fantasy Grounds license and their own copy of the module.
Don't forget that players can gift purchases through Steam for Dungeon Masters who have linked their license on Steam.
What is a Virtual Tabletop?
A virtual tabletop (or a VTT) is a software program that allows you to play your favorite role-playing game online with other people at different physical locations. Gameplay works very much like it does when you play the pen & paper RPG in person, it just moves it to the Internet. Each person runs a copy of the software and one person still acts as the DM for a group of players. The DM version of the software contains a lot of features to make it easier to run a game as complex as D&D, while keeping the gameplay fast and fun. There are a lot of things to track for an RPG, such as the locations of monsters in relation to player's characters, the amount of hit points (life) that each player's character and monsters have at any given time, whose turn is next, what a certain spell or ability does and when certain effects end. Because this is computer software, we've done a lot of that work for the DM and Players so they can focus on telling and playing out great, collaborative stories featuring the characters they've created.
What Distinguishes Fantasy Grounds as a VTT?
To see videos that showcase various features of Fantasy Grounds and for an explanation of the different license options available for the core software product, please follow this link to take a tour. Once you've determined which license is right for you, please check out the various D&D products that we have available as pre-loaded data and reference packs. You can purchase these to enhance your experience and reduce your prep time as a DM.