Eyes of the Dragon
Expeditious Retreat Press
---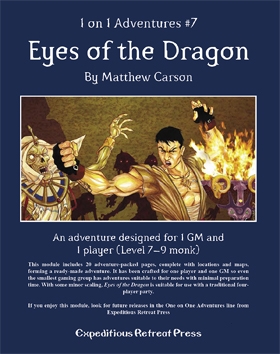 One on One Adventures #7
Eyes of the Dragon
Designed for 1 GM and 1 player, monk level 7-9, 1 on 1 Adventures #7: Eyes of the Dragon is the tale of one monk's struggle to reclaim his order's purloined relics.
The sacred treasures of the monastery have been stolen! While simple greed could explain the theft of the eyes of the dragon, the Grandmaster of the Dragon Path has sensed a more sinister motivation for the theft that has come to pass. Far beyond the walls of the remote monastery, you must journey into foreign lands and battle the will of an ancient foe to recover the eyes of the dragon.
This product is an installable module for use with the Fantasy Ground II virtual tabletop. The adventure module has been carefully organized to streamline gameplay and includes, story elements, personalities, items, vehicles (if necessary) and images. These can be modified within your Fantasy Grounds campaign as needed.
Author: Matt Carson
Fantasy Grounds II Conversion: Cari Harper
Requirements: A Full or Ultimate license of Fantasy Grounds and the 3.5E (or compatible) ruleset.
© 2011 Expeditious Retreat Press. XRP and all related marks and logos are trademarks of Expeditious Retreat Press. All rights reserved. Used with permission. © 2011. All Rights Reserved.
This is an OGL 3.5 game product.
This product is Copyright 2011, SmiteWorks USA, LLC. Used under license from Expeditious Retreat Press. This product's format, programming code, and presentation is copyrighted by SmiteWorks USA, LLC. Redistribution by print or by file is strictly prohibited.
Released on October 01, 2011
Designed for Fantasy Grounds version 2.9.9 and higher.
Screenshots
XRP6007FG2