Castles & Crusades Player's Guide to the Haunted Highlands
Troll Lord Games
---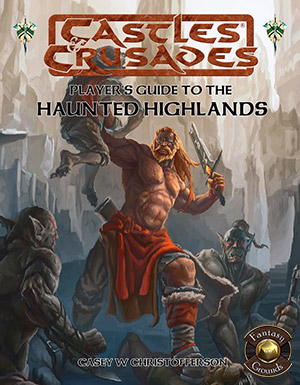 This product is part of a bundle. Complete the set and save on all bundled products you don't already own and all future additions to the bundle.
CASTLES & CRUSADES BUNDLE
Castles & Crusades Player's Guide to the Haunted Highlands
The Players Guide to the Haunted Highlands includes new player content for your Castles & Crusades game. Within you'll find new racial variants, class specializations, new spells as well as a gazetteer to the Haunted Highlands geared for player use with persons of note, deities and more.
This book includes the basic rules of the Castles & Crusades game. You can play C&C with it, however items such as low level spells for the spell casters are very limited.
For use with the Haunted Highlands setting, or port it to your Aihrde or homebrew.
This product includes:
4 additional playable races
New options for your player's classes
New spells
Written by: Casey Christofferson
Converted by:  Perry Chalmers
Requires:An active subscription or a one time purchase of a Fantasy Grounds Full or Ultimate license and a one time purchase of the Castles & Crusades ruleset.
This product is Copyright 2019, SmiteWorks USA, LLC. Used under license from Troll Lord Games. This product's format, programming code, and presentation is copyrighted by SmiteWorks USA, LLC.
Released on August 13, 2019
Designed for Fantasy Grounds version 3.3.7 and higher.
Screenshots
TLG8512