The Black Libram of Natarus
Troll Lord Games
---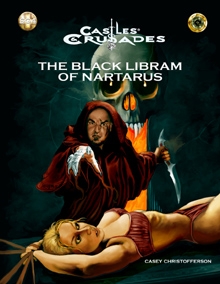 This product is part of a bundle. Complete the set and save on all bundled products you don't already own and all future additions to the bundle.
CASTLES & CRUSADES BUNDLE
The Black Libram of Nartarus
A Castles & Crusades Library module for Fantasy Grounds
The Black Libram of Nartarus is a unique new installment to the Castles & Crusades fantasy role playing game. It is a book of wicked secrets, intended not as a supplement for the player characters to use for their own devices, but instead as a tool for the Castle Keeper to unleash new levels of magic, monsters and mayhem upon her jaded and unsuspecting players. The spells and items contained within this book are all of a decidedly wicked and evil nature.
The Black Libram of Nartarus has its genesis in the Haunted Highlands campaign setting. The deities, items, rituals, and villains mentioned upon these pages are decidedly referenced from that setting. The magical lore found here is suitable for any mature themed campaign setting, played in by players mature enough to understand and accept its decidedly dark themes.
Beyond Castles & Crusades, the magic items and spells within this Libram may be of use in any fantasy role playing game with little work on the part of the game master.
Original conversion by:
Alan Neilson
Remaster conversion by:
Scott Geeding
Requires: An active subscription or a one time purchase of a Fantasy Grounds Full or Ultimate license and a one time purchase of the Castles & Crusades ruleset.

This product is Copyright 2019, SmiteWorks USA, LLC. Used under license from Troll Lord Games. This product's format, programming code, and presentation is copyrighted by SmiteWorks USA, LLC.
Released on July 29, 2019
Designed for Fantasy Grounds version 3.3.7 and higher.
Screenshots
TLG8505FG2