Rune Lore
Troll Lord Games
---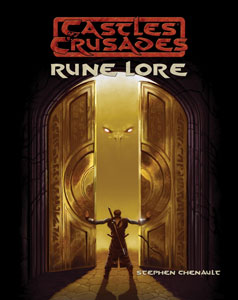 This product is part of a bundle. Complete the set and save on all bundled products you don't already own and all future additions to the bundle.
CASTLES & CRUSADES BUNDLE
C&C Rune Lore
Runes of Old
In the crumbled ruins of ancient cities are tombs and crypts where dead kings lie. In towered halls lay a sorcererís forgotten lore, writ upon tablets of stone and vellum scrolls. In dungeons dark are threads of time, spun from gods and monsters.
All these echo the secrets of a time long forgotten whose faint memories are etched in runes of power and glory, curiosities, or riddles best left to the dead who house them. They are passed by all but a few, the rune marks.
Rune Marks
There are those who possess knowledge of these etchings, these runes of power. With booted feet and steel in hand they tread the wilds and plunder ancient holds, unraveling the knot of secret lore and mastering its eldritch might. These are the Rune Marks. For them the runes open the hidden deeps of the world's mysteries and the treasures of gods are made bare.
Rune Lore
With Rune Lore we present a new class, the rune mark, over 40 magical runes and everything needed to integrate runic magic into your Castles & Crusades game. Included within Rune Lore are over a dozen short adventures, a host of new magic items, new monsters and a campaign setting, the Gottland, to house it all.
Requirements: Full or Ultimate License of Fantasy Grounds and the Castles & Crusades ruleset. Random tables reference other core modules and the Monsters & Treasure of Aihrde modules.
Conversion by: Scott Ferguson

Fantasy Grounds is a trademark of SmiteWorks USA LLC. (C) 2014 SmiteWorks USA LLC. ALL RIGHTS RESERVED. Visit the Fantasy Grounds website at http://www.fantasygrounds.com for more product information.
The reproduction of material from within this product for the purposes of personal or corporate profit, by file, photographic, optical, electronic, or other media or methods of storage and retrieval, is prohibited.
This product is Copyright 2014, SmiteWorks USA, LLC. Used under license from Troll Lord Games. This product's format, programming code, and presentation is copyrighted by SmiteWorks USA, LLC. Redistribution by print or by file is strictly prohibited.
Released on November 04, 2014
Designed for Fantasy Grounds version 3.0.10 and higher.
Screenshots
TLG83201FG2